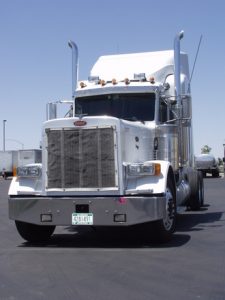 Safety advocates are asking what can be done to make the roads safer in the wake of a deadly tractor-trailer collision this month that claimed the lives of 5 boys traveling to Disney World in a church van.
The Ocala Star Banner noted South Florida's burgeoning growth has put tractor-trailers and other large commercial vehicle traffic at increasing odds with other motorists on the road, making trucking accidents in Southwest Florida a growing threat. In this most recent incident, a tractor-trailer burst into flames after colliding with another vehicle, before running through the median and into oncoming traffic, where it struck the church van and another tractor trailer. Seven motorists were killed and eight others were taken to the hospital with serious injuries.
While we recently wrote about highway traffic safety on our Florida Injury Lawyer Blog, the fact remains that motorists are largely at the mercy of large tractor-trailers when driving on the interstate or on many of Southwest Florida's main thoroughfares. Economic growth and the birth of the delivery economy continues to put an increasing number of commercial trucks on our highway and byways, and even on suburban neighborhood streets, where pedestrians and cyclists face increased risks.
The I-75 Relief Task Force is tasked with reducing the risks, but not enough is being done.
"I-75 and other highways are at their capacity," said Robert Hutchinson, a county commissioner in Alachua where this most recent tragedy occurred. "Solving the problem involves reducing the use of interstates for local traffic, segregating truck lanes which can be designed for their needs and weights, passenger rail and bus services, and automated enforcement of traffic laws."
Tractor-Trailer Accident Claims in Southwest Florida
Injury claims stemming from collisions with commercial vehicles are always complex cases. The good news for injury victims is that there is typically sufficient insurance coverage as most commercial trucking companies carry liability insurance policies with limits of $1 million or more to cover damages. The bad news is the trucking and delivery industry understand the road risks better than anyone and are experts at shielding themselves from the liability of the inevitable traffic collisions that are a part of their business. While trucking companies can be held responsible for the actions of a driver, the industry uses a host of limited liability corporations, independent contractors and truck leasing companies as shields against accident claims.
Your chosen Southwest Florida law firm must have the knowledge, resources and experience to pursue out-of-state trucking companies and their insurance companies and must be ready to battle some of the best corporate defense lawyers money can buy. Your injury lawyer must also understand the host of state and federal regulations and monitoring programs that govern the industry, which can help prove fault or liability in many cases where speed, distracted driving, or drivers with a history of violations are blamed for a collision.
By identifying all elements of causation, and all defendants who share lability, you will be in the best position to build a comprehensive claim for damages.
If you or a loved one is injured, call Associates and Bruce L. Scheiner, Attorneys for the Injured, at 1-800-646-1210.