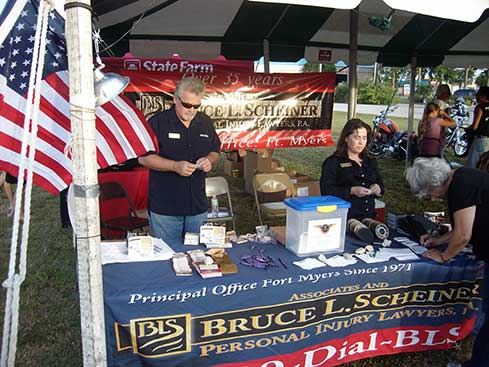 Bike Night happens… click to see more!
Tailpipes rumbled and music played on Saturday, October 3rd, when Cape Coral's first Bike Night of the season rolled into downtown's "restaurant row." A popular event for bikers and bike lovers that draws thousands of enthusiasts into the Cape's 47th Terrace business area. This month's Bike Night happened thanks to the support of some prominent local businesses.
"We are proud to show our support of the local motorcycle enthusiasts' monthly events. We enjoy being a part of it and meeting so many good people", said Bruce L. Scheiner, founder and senior attorney of the personal injury law firm that bears his name. This year, the City of Cape Coral's Parks & Recreation Department, like most municipalities, has been experiencing budget concerns, so it was crucial for local sponsors to step up in order to keep the event rolling. As the Title Sponsor, Associates and Bruce L. Scheiner, Personal Injury Lawyers manned a booth at the show to hand out information about motorcycle rider safety, and show bikers that it cares about smart riding practices. "Southwest Florida is a terrific place to enjoy riding a motorcycle. We feel it's an honor to share valuable information on rider safety with those who feel the same way", noted Scheiner.
The next Bike Night will be held on December 12th, with 2010 events planned in February and April. For more information, log onto www.ccbikenight.com, and to see local news coverage of the October event click on the picture above.