Collecting compensation for injuries sustained due to faulty highway design or construction is difficult in Florida, and it was made tougher by a law passed in 2005, codified in F.S. 337.195, limits on liability.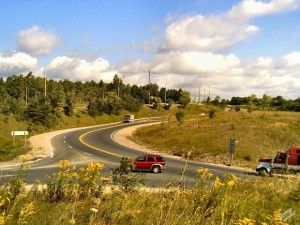 The statute serves to limit liability for road designers, consultants and contractors and it does so by establishing legal presumptions in their favor in civil litigation. In order to win (and it is possible to prevail), plaintiffs have a tough task of overcoming those strong presumptions in favor of defendants. Generally, it means asserting gross negligence or intentional misconduct that results in injuries or damages. It can also be circumvented when contractors fail to adhere to maintenance of traffic safety plans, as required by the government contract.
Similarly, government entities are protected by sovereign immunity laws, though those have been waived under certain circumstances.
We say all this not to discourage those who have been injured on a dangerous road to shrink away from a lawsuit. Rather, it's important to understand the unique challenges one will face in these cases, and the necessity of an experienced personal injury law firm to bolster chances of success.
The obstacles of these type of cases were outlined recently in the California Supreme Court case of Hampton v. County of San Diego, where plaintiff sued the county for negligent roadway design after a car accident with injuries.
In California, the laws make clear that a public entity can be liable for injuries caused by dangerous conditions of public property – including roads. However, the public entity may sidestep liability by asserting design immunity. In order to successfully assert this defense, three elements must be proven:
Causal relationship between the plan or design and the accident;
Discretionary approval of the design or plan prior to construction;
Substantial evidence that supports the reasonableness of the design or plan.
In the Hampton case, it was the second prong that was at issue.
The crash in question occurred before dawn one morning in November 2009. Plaintiff was seriously injured in a crash with another vehicle when he was making a left turn from a rural road onto a two-lane thoroughfare with paved shoulders and marked traffic lanes. He collided with another vehicle. Plaintiff suffered brain injuries as a result. He and his wife sued the other driver, alleging negligence. Plaintiff's injuries were such that he could not recall whether he stopped at the stop sign prior to the cras. However, a trooper with the state highway patrol opined plaintiff caused the accident by failing to stop at the stop sign before proceeding through the intersection.
However, that case was not at issue here. Plaintiffs filed a second cause of action against the county, alleging county maintained an allegedly dangerous condition on its property because the design and construction of the intersection left drivers making left turns with limited visibility, due to a high embankment that was covered with vegetation. They alleged the design for the intersection failed to take into account the embankment and didn't identify the site distance drivers would have when making a turn.
County moved for summary judgment under design immunity theory. Further, the county showed design plans indicating the county had taken into account the visibility issue and had in fact lowered the grade of the embankment and installed warning signs.
Trial court granted summary judgment and the state supreme court ultimately affirmed. On the issue of discretionary approval, the county's director of design engineering department had the authority to approve such plans and did so, invoking this statutory protection from liability.
Call Associates and Bruce L. Scheiner, Attorneys for the Injured, at 1-800-646-1210.
Additional Resources:
Hampton v. County of San Diego, Dec. 10, 2015, California Supreme Court
More Blog Entries:
Stensland v. Harding County – Government Liability for Poor Road Conditions, Dec. 13, 2015, Fort Myers Car Accident Attorney Blog