When it comes to baseball and other spectator sports, courts have generally held that stadium owners have only a limited duty to protect vulnerable sections of fans from flying balls, bats, pucks or other game-related objects. For the most part, it has been found fans assume the risk of injury when they are hit by a foul ball or a hockey puck.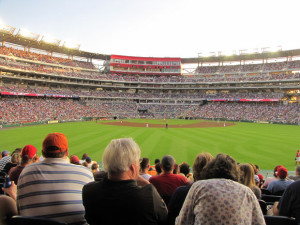 The idea is that if a fan chooses to sit in those closer seats, he or she assumes the risk of being struck by a flying object, and therefore has a duty to pay close attention to what's happening so as to react quickly and prevent injury to themselves.
But a series of serious injuries suffered to sports fans in recent years has prompted a class action lawsuit that seeks to expand stadium owner duties of care and improve safety for those who patronize professional sports.
The federal lawsuit alleges an increase risk of personal injury to Major League Baseball fans when seated in unprotected areas, namely behind first and third bases, where no netting is provided. There are pitchers who are throwing harder than ever before. The design of bats causes them to more easily splinter. What's more, there are numerous distractions, such as huge video monitors and Wi-Fi that create a host of distractions that result in fans having significantly less time to react if a foul ball comes flying their way. On top of all that, the league is undergoing an effort to speed up the pace of games to keep fans more interested so they will stay longer (and in turn, purchase more concessions).
Plaintiff alleges even when fans are paying attention, they may have little to no time to appropriately react, given the speed at which objects may fly in their direction.
Just recently, a woman sitting behind the dugout at a professional ballgame in Milwaukee was struck by a line drive and had to be transported via ambulance to a nearby hospital. In another incident at Fenway Park, a woman sitting behind third base was rushed for emergency treatment after being struck by a foul ball. Also at Fenway Park, a woman suffered life-threatening injuries after being struck in the head with a splintered bat. Although she survived, she is continuing to recover at a rehabilitation center and the extent of her permanent injuries is not yet clear.
Lead plaintiff in the class action lawsuit (which has not yet been certified by a judge) was not personally struck by an object. However, she was seated next to someone who was. At an Oakland A's game, she was in a section of the stadium with no netting protection, and the woman next to her was injured by a foul ball.
Attorneys in the complaint cite a study conducted in 2014 by Bloomberg News, which indicated 1,750 Major League Baseball fans are hurt every single year at games. There are some who have alleged that league owners "have their head in the sand" about the serious risks.
These kinds of injuries – and even fatalities – are part of the reason the National Hockey League installed netting around each of its rinks. That was back in 2002.
For baseball organizations not to take simple, obvious steps to prevent injury and death is egregious. Our legal team will be closely following the developments of this case, as it could bolster the standard of care required by sports teams and stadium owners to their fans.
Call Associates and Bruce L. Scheiner, Attorneys for the Injured, at 1-800-646-1210.
Additional Resources:
Lawsuit Seeks Better Protection for Fans From Foul Balls and Broken Bats, July 13, 2015, By Richard Sandomir, The New York Times
More Blog Entries:
Growing Number of Fort Myers Traffic Accidents Frustrates Safety Advocates, July 18, 2015, Fort Myers Injury Lawyer Blog