Aggressive driving is a serious problem on U.S. roads. The American Safety Council reports 66 percent of all traffic fatalities are caused by aggressive driving and 37 percent of all aggressive driving incidents involve a firearm.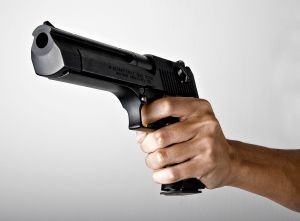 A jury in Georgia recently awarded $4.8 million to a family who endured a road rage attack in which a CEO fired a gun into their vehicle. Inside was a mother, father and three small children. The man later pleaded guilty to aggravated assault and served six months in jail – something the traumatized family called "a slap on the wrist."
Victims pursued civil litigation against the man who could have killed them and their young children.
According to court records in the case, victims testified they were returning home from a family vacation to Hilton Head, SC. Their three children were in the back seat of a Ford Expedition. They first encountered defendant on Highway 278 at a traffic light near the on-ramp to Interstate-95. Defendant accused plaintiffs of stopping for no reason in the center of the road. However, plaintiffs assert defendant was driving recklessly and erratically and pulled his luxury vehicle directly in front of their sport utility vehicle and slammed on the brakes.
Plaintiff admits at this point he thew up his hands in frustration. Defendant asserts it was instead an obscene gesture.
They parted ways, but saw each other again about eight miles later on I-95. Defendant was traveling just 50 mph in the left lane. Plaintiff moved into middle lane to pass. It was at that point, they testified, defendant opened the passenger side window of his vehicle, stretched out his arm and began firing a handgun into their vehicle.
Shards of glass sprayed everywhere. The father pulled over as fast as he could, and by that point was across the Georgia state line. Troopers responded to the 911 call.
No one was injured, but it was determined four shots hit the driver's side door, and a fifth went into the driver's side window and out through the passenger window.
At trial, defendant argued he had only shot at the vehicle because plaintiffs were trying to force him off the road and he was in fear of his life. He argued he was "trapped" in the left lane and could not pass. He said he saw plaintiff reach down, "Possibly for a gun."
Plaintiffs pointed out that in order to believe defendant's argument, jurors would have to believe plaintiff was driving recklessly in the car with his wife and three children, and further that there was no other way defendant could escape plaintiff's actions on the highway.
Jurors did not buy this, and decided the personal injury lawsuit in favor of plaintiffs, awarding them $1.6 million in compensatory damages and $3.2 million in punitive damages. Because defendant's actions revealed a specific intent to harm, the damage award is not subject to the $250,000 cap state cap on punitive damages.
However, it's a double-edged sword because the intentional nature of defendant's actions means his auto insurance company won't pay those damages.
The family has collected underinsured motorist coverage from their own carrier, and they have said that given defendant's personal wealth as a CEO of two companies, they intend to collect their full judgment directly from defendant.
Call Associates and Bruce L. Scheiner, Attorneys for the Injured, at 1-800-646-1210.
Additional Resources:
Jury Awards $4.8M to Family for Road Rage Shooting, Aug. 24, 2015, By Katheryn Hayes Tucker, The Daily Report
More Blog Entries:
CDC: 4.2 Million Americans Concede to Driving Drunk in Last Month