A middle school student was struck by a passing vehicle while waiting for the bus one recent morning in Fort Myers. According to The News-Press, the 12-year-old was transported to Lee Memorial Hospital following the accident. Reports indicate that he was waiting for his bus to arrive at Fifth Street and Davis Boulevard just before 7:00 a.m. when a vehicle made an improper turn at the intersection, left the roadway and struck the sitting child. The driver was cited for careless driving.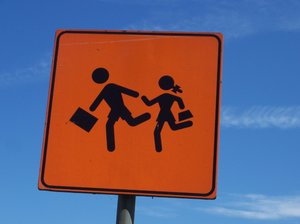 Our Fort Myers child injury lawyers have already addressed children getting to and from their bus stop/school safely on our Florida Injury Lawyer Blog. But typically, it's motorists who can do the most to reduce the risks.
According to the Florida DMV, fines are doubled for speeding in a construction or school zone. If you're busted speeding more than 30 mph over the speed limit in a school or construction zone, the fine is $555.50.
In most of the school zones around the state, the speed limit is 20 miles per hour. In these areas, there are special speed limit signs posted to remind drivers. These zones typically utilize blinking caution lights to tell you when the reduced speed limit is in effect.
Motorists also need to be aware of safety laws when traveling around a school bus, too.

According to Florida Motor Vehicles Laws, motorists are required to come to a complete stop when approaching any school bus that is displaying its flashing red lights and has its stop sign extended. If you don't stop for these buses, you can be busted for a moving violation and can face serious consequences. If you pass a school bus illegally on the right side when students are entering or exiting the bus, you're also guilt of a moving violation and are subject to a mandatory hearing.
Left hand passing is subjected to a $165 fine for a first-time offense and a right-hand pass can be subjected to a $265 fine. If you're busted, in addition to other applicable penalties, you'll be required to attend a DHSMV-approved driver improvement class. And if you don't finish and successfully complete this class within 90 days, your driver's license will be canceled until the course is successfully completed.
It's also important to remember that if you're traveling along a divided highway, one with an unpaved space of at least 5 feet between the lanes, a raised median or some other sort of physical barrier, you are not required to stop when there is a bus stopped on the other side of the road.
We'd like to believe that no one would intentionally speed past a stopped school bus or speed through a school zone, but the truth of the matter is that drivers aren't always paying attention. That's why it's critical to pay attention when you're behind the wheel. Put the cell phone down, keep your coffee for the office and pay full attention to the road to not only ensure that you get to the office safely, but to help to make sure that students get to the classroom safely as well.
Call today if you or your child has been injured in an accident. We offer free and confidential consultation to discuss victim's rights. Call 1-800-283-2900.
More Blog Entries:
Keeping Children Safe on their Walk to School, Florida Injury Lawyer Blog, August 21, 2013
Kids & Hot Cars and Your Risk for Injury in Southwest Florida , Florida Injury Lawyer Blog, August 25, 2012