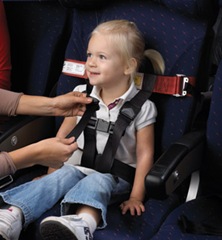 Since many parents and grandparents are planning winter and spring vacations, they need to consider what it means to travel with small children. Many people who take their children under two years of age aboard an airplane feel holding them on their laps is a safe way of keeping them secured. While it is legal to fly with your toddler on your lap, the Federal Aviation Authority, (FAA), strongly urges that all children aboard an airplane, no matter how old, use an appropriate child restraint system, (CRS), to limit the possibility of injury.
In the event of an air accident, or even in the case of turbulence during the flight, a CRS provides optimum protection for the child. Parents need to know the differences between a CRS and a child safety device, as only a government-approved CRS with a label stating; "This restraint is certified for use in motor vehicles and aircraft" will be allowed on board. An unauthorized child safety device will require that you check it through as luggage. If you do have a child safety system, make sure it contains the wording "FAA approved in accordance with 14CFR 21.305(d), Approved for aircraft use only" on it. And if you try to board the plane with the intention of using a booster seat or harness vest type of restraint system, be aware that the FAA prohibits passengers from using them during plane taxi, take off and landing.
According to the website www.airsafe.com, there are several things you can do before you head to the airport to catch your flight:
• Check with the airline to find their busiest days and times. By avoiding these times you are more likely to be on a flight with an empty seat next to a parent. In many cases airlines will allow you to seat your child less than two years of age in a child restraint in the empty seat at no extra charge. Ask your airline for its policy regarding an empty seat.
• Ask the airline if they offer a discounted fare for a child traveling in a CRS. When you buy a ticket (discounted or full fare) for your child, you are guaranteed that they will have a seat and that you will be able to use the CRS.
• If you purchase a ticket for your child, reserve adjoining seats. A CRS should be placed in a window seat so it will not block the escape path in an emergency. A CRS may not be placed an exit row.
• Check the width of your CRS. While child seats vary in width, a CRS no wider than 16 inches (40.6 cm) should fit in most coach seats. A CRS wider than 16 inches (40.6 cm) is unlikely to fit. Even if the armrests are moved out of the way, a wide CRS will not fit properly into the frame of the aircraft seat.
• If you need to change planes to make a connecting flight, request that the airline arrange for assistance in your connecting city.
The FAA also offers these safety guidelines:
• Be sure the seat shoulder straps are properly adjusted and fasten the airplane seat belt around the CRS.
• Always follow the manufacturer's instructions when using a CRS. FAA recommends that a child weighing:
– Less than 20 pounds, use a rear-facing CRS – From 20 to 40 pounds, use a forward-facing CRS – More than 40 pounds, use an airplane seat belt – A child may also use an alternative, such as a harness-type restraint, if it is approved by FAA. FAA has approved one restraint appropriate for children weighing between 22 and 44 pounds. This type of restraint is not safe for use in motor vehicles.
For more complete information regarding flying with your child, visit http://www.faa.gov/passengers/fly_children/crs/
"Flying with a young child can be a trying experience for any parent, and using an unapproved child restraint system can only add to the hassles and frustration," says attorney and experienced pilot P.J. Scheiner, of Associates and Bruce L. Scheiner Personal Injury Lawyers, P.A. For almost 40 years, the firm founded by his father, also an avid aviator and Senior Attorney, has been focused on justice for those injured or killed in an aviation accident. For case results and a no-obligation consultation, please call 1-800-Dial-BLS, or visit www.focusedonjustice.com.