Our Florida weather provides the perfect year-round opportunity for residents and tourists to get outside and enjoy some bicycling. Unfortunately, these conditions are a part of the reason why our state has been named the most dangerous state in the county for bicyclists. A bicycling accident in Lee County happens about every 34 hours, making our county the most dangerous in the entire country, according to Bike Radar.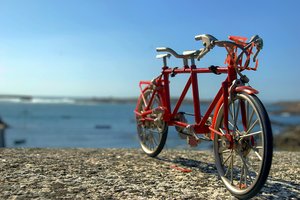 A number of residents are involved in community bike rides, but they're very cautious when planning these trips. Veteran bicyclists are careful not to ride in dangerous areas on busy roads. But if the dangers in specific areas are concerning experienced bike riders, what should a novice rider do to help protect themselves?
Our Fort Myers bicycling accident attorneys understand the dangers that bicyclists face on roadways in our area. Luckily, we're able to tell you about a number of projects that county officials are considering in an attempt to help bicyclists in our area. A few new projects are scheduled to begin soon.
First, transportation officials are looking at two specific projects. The first is a link between recreational centers that already have bike routes. The second project involves the construction of a university loop bike path. About $2 million has been set aside for these Lee County bicycle projects. The county hopes to receive grants from the state for future bike-path projects.
County officials have a few long-term plan up their sleeve as well to help protect our area's bicyclists and pedestrians. They are looking into making the Seminole Rail Line into a multi-use path.
"Some of the things we're doing include conducting 'Cycling Savvy' bike education programs and aggressively pushing for complete street politics to be adopted and implemented by all governments in our county," Dan Moser of BikeWalkLee.
Bicyclists are getting involved as well to help make our roadways safer. A recent Ride of Silence was held to help raise awareness about the presence of bicyclists on our roadways and to encourage motorists to be more cautious when traveling in areas where bikers are known to ride.
Beau Cautens is a shop mechanic at Paradise Bicycles in Cape Coral and he says that he can tell that the area is starting to recognize bikers. He says that he's noticing that new roads in Cape Coral are in fact being built with bike lanes. He also notices that a number of four-lane roadways are being reduced to two-lane roads so that a bike lane can be worked into these areas. He says that it's taking a while, but the area is getting there.
Cautens says that bicyclists still need to be cautious on our roadways and educated about which areas are safest to ride through. Bicyclists need to be familiar with bike laws in Florida to help prevent a potentially fatal accident with a motor vehicle.
According to federal statistics, nearly 20 percent of the country's cycling fatalities occurred in Florida in 2008.

If you or a loved one has been involved in a motor-vehicle-related bicycling accident in Fort Myers, Cape Coral or Naples, contact Associates and Bruce L. Scheiner, Attorneys for the Injured, today for a free and confidential appointment to discuss your rights. Call 1-800-Dial-BLS.
Additional Resources:
Lee County, Florida, most dangerous in the US for cyclists, by Peter Suciu, Bike Radar
More Blog Entries:
New Report Ranks Florida Number One for Deadly Pedestrian Accidents
May 30, 2011
Sanibel Car Accident Kills Fort Myers Bicyclist on Sanibel Causeway
May 21, 2011