A haunted house injury lawsuit was recently settled for $125,000 after a California woman reportedly suffered serious injuries when a moving wall knocked her down onto a poorly-lit floor in an unlit location on site. Among her injuries: Severe fractures to one of her legs and soft tissue injuries to her back and spine.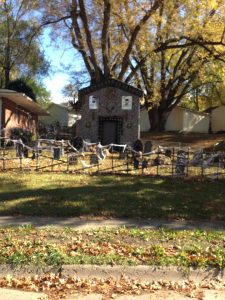 The Oakland Press reported the woman filed her lawsuit last year, which was one year after the injury in October 2014. Plaintiff alleged operation of the haunted house rendered it both unsafe and defective. This in turn resulted in a substantial number of injuries to patrons. The alleged negligence of the site owner/ operator reportedly involved:
Employees moving walls;
Inadequate lighting on the floor;
Fall hazards.
Of course, patrons who enter haunted houses do inherently accept some risk. But the question becomes what level of risk was inherent and what responsibility did the owners/operators have to patrons? As paying customers on site, patrons are owed the highest duty of care by the owner/ operator. That means the site has to be reasonably safe and patrons have to be adequately warned if there are any conditions that aren't safe.
Court precedence in such cases is varied, but comes down to establishing what risks were reasonable and what type of warning is adequate. in 1986, the Louisiana Court of Appeals ruled in Bouton v. Allstate Ins. that while frightening/ threatening people would normally be a general violation of a business owner's duty of care to patrons, haunted houses during the Halloween season are different. People pay precisely for a good thrill. However, that does not mean the owner/ operator can act unreasonably.
Generally speaking, plaintiffs won't be able to successfully sue for simply being frightened. However, that doesn't mean personal injury lawsuits against haunted houses are never worth pursuing. For example, you might be able to prevail if the employee/ actor with the haunted house goes too far and violates certain guidelines – such as touching, pushing, grabbing or pulling patrons – in trying to elicit a scare.
Other potential injuries to haunted house customers:
Slips/ Trips/ Falls. There are many common slip-and-fall hazards in haunted houses, which may include uneven flooring, inadequate lighting, debris on the ground, defective stairways, loose cables, slippery substances on the floor, etc.
Exposed Protrusions. These might involve things like screws, broken handrails or misplaced items that can leave patrons vulnerable to cuts and bruises as they are walking through the poorly lit venue.
Props Falling. If props are knocked over or moved, they can become unstable and pose a risk to visitors – particularly children.
Trampling. Haunted houses exist so customers can experience a thrill. However, some become legitimately terrified. If a group of people are scared to that extent at the same location at the same time and all run away at once, it could put them and others at risk of being trampled.
And it's not just patrons who have to be concerned about injuries. A report by The Huffington Post details the injury risks employees endure – mostly from customers who lash out in fear by kicking, hitting and even biting. Many haunted house employees are independent contractors, so collection of workers' compensation may not be possible. However, because those workers aren't bound by workers' compensation exclusivity provisions, they may be able to pursue an injury claim against the owner/ operator of the house.
Call Associates and Bruce L. Scheiner, Attorneys for the Injured, at 1-800-646-1210.
Additional Resources:
Injury lawsuit involving Pontiac's Erebus haunted house settled for $125K, Sept. 16, 2016, By John Turk, The Oakland Press
More Blog Entries:
NHTSA: Unsafe Cars Cost Lives in Florida, Sept. 29, 2016, Fort Myers Injury Lawyer Blog