A school bus accident in Naples recently resulted in injuries to two students, and the driver of the bus has been found at-fault.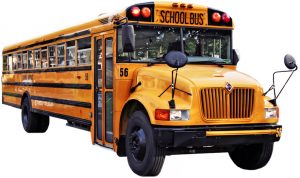 WINK News reports the crash happened one Monday morning as students were being transported to Lely High School. The Florida Highway Patrol initiated an investigation after the students were transported to a local hospital. Authorities have characterized student injuries as minor, but it's worth noting not all injuries are apparent immediately after a collision.
The 61-year-old driver of the bus was cited for failure to yield the right-of-way at U.S. 41 and Broward Street. The bus was turning left and did so directly into the path of a 20-year-old motorist operating a Jeep Cherokee. That driver was seriously injured and was transported to Lee Memorial Hospital. Although both drivers had a green light, the bus driver was at-fault for making a left turn into oncoming traffic.
In general, school buses are pretty safe. As the National Highway Traffic Safety Administration reports, there are 450,000 school buses that transport nearly 24 million children to-and-from school and related activities every year. On average, six school-age children die in school bus crashes annually, compared to the 42,000 total traffic fatalities. It's estimated school buses are seven times safer than light trucks or passenger cars.
However, that doesn't mean they are invincible and certainly when they collide with other vehicles or non-occupants, injuries to other drivers, passengers, bicyclists and pedestrians can be devastating.
The most recent NHTSA Traffic Safety Facts on school buses looked at school bus crashes between 2006 and 2015. During that time, there were 1,313 people killed in school transportation-related crashes, which amounts to 131 a year. That figure includes all people involved in school bus accidents – not just school-age children.
Of the school-age children who died in such accidents, 61 percent were not on the bus, but rather were struck by the bus. Another 36 percent died being struck by other vehicles involved the crash.
As far as the timing, most occurred during the afternoon, just after school let out, between the hours of 2 p.m. and 5 p.m. Another peak window was between 6 a.m. and 9 a.m. This makes sense, as it's when most students are waiting for, boarding or exiting school buses.
Of the 325,000 fatal motor accidents during that time, 0.4 percent were classified as school transportation-related. That's a pretty decent record when you remember how many buses there are and how many trips they take.
However, school districts can and should be held responsible when drivers fail to use reasonable care. As our injury lawyers know, holding accountable a school district can be a challenge, as it is with any government agency. Generally, government agencies are immune from liability, except as spelled out in F.S. 768.28, which is the state's waiver of sovereign immunity in tort actions.
The state caps damages at $200,000 per person or $300,000 per occurrence. Exceptions are only made in cases of extremely serious injury or wrongful death, and only then if a legislator can be persuaded to introduce and pass a claims bill.
If your child has been injured in a Southwest Florida school bus accident, our experienced accident lawyers can help.
Call Associates and Bruce L. Scheiner, Attorneys for the Injured, at 1-800-646-1210.
Additional Resources:
Driver at fault in bus crash that hurt 2 students, March 27, 2017, Staff Report, WINK News
More Blog Entries:
City to Pay $4.85M to Man Injured in Bicycle Accident Caused by Damaged Sidewalk, March 23, 2017, School Bus Accident Lawyer Blog