Businesses in Florida have a responsibility to their patrons to make sure the site is reasonably safe and there are no concealed dangers. If there are hazards, the property owner/ manager has a duty to warn patrons about it so they can protect themselves.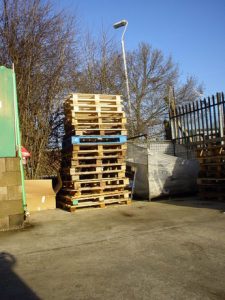 This is the crux of premises liability law in Florida. However, it's not without exception. In addition to F.S. 768.0755, which limits the conditions under which a property owner can be liable for slip-and-fall injuries, case law has established that businesses are not responsible for warning patrons about dangers that may be open and obvious. This is widely recognized affirmative defense in premises liability cases known as the "open and obvious doctrine." Essentially, people have a responsibility to use reasonable care to avoid injury. A defendant (business) may not be liable where plaintiff (the injured person) acts in a manner that disregards ordinary caution or reasonable care in the face of a known or obvious dangerous condition.
In a recent case before Florida's 1st District Court of Appeal, justices affirmed summary judgment in favor of defendant in trip-and-fall case wherein a plaintiff tripped over an empty pallet just outside the entrance/ exit doors of a grocery store. 
The case highlights the fact that just because you fall at a store and are injured, you can't automatically expect to collect compensation for personal injuries, such as medical bills and lost wages. It's imperative to have an experienced injury lawyer review your case and ascertain its viability. Where a store or other business does fail in its duty of care to South Florida patrons resulting in injuries, our attorneys are prepared to help pursue such matters.
In this case, plaintiff was at the store to make a purchase and collect empty boxes. He made a total of four trips into the store. On his first time entering the store that day, he made his purchase and returned his bag to the car. He then returned three more times to collect the boxes. While this was going on, a supply company employee was there to deliver a shipment of beer, which was wheeled into the store on pallets.
Plaintiff conceded that he saw those pallets stacked up, about five feet high, in front of the store. There was also a single empty pallet on the ground nearby. Video surveillance showed plaintiff stepping around the pallets on his first three trips in and out of the store. However, upon exiting the fourth time, he tripped over the empty pallet and fell onto the pavement, causing him to suffer serious injury.
He later filed a premises liability lawsuit against the store and the supplier, alleging negligence in creating a dangerous condition and in failing to warn patrons about it. However, defendant asserted the open and obvious doctrine. The pallets were obvious to anyone approaching, and in fact plaintiff had sidestepped them on earlier occasions.
Plaintiff argued it wasn't the pallet he'd tripped over, but a prong sticking out from underneath that was not obvious. Defendant argued the surveillance video proved this assertion false.
Trial court granted summary judgment to defendant and the 1st DCA affirmed. The court pointed to previous rulings wherein it had concluded there is no duty to warn against an open and obvious condition that isn't inherently dangerous, and that this applied to the facts of the current case.
Call Associates and Bruce L. Scheiner, Attorneys for the Injured, at 1-800-646-1210.
Additional Resources:
Brookie v. Winn-Dixie Stores Inc., April 4, 2017, Florida's 1st District Court of Appeal
More Blog Entries:
Griffin v. Haunted Hotel, Inc. – Assumption of Risk Doctrine, Dec. 2, 2015, Fort Myers Premises Liability Attorney Blog