In 2012, the U.S. Bureau of Labor Statistics (BLS) reports that there were more than 4,300 workers who were killed on the job. On average, we lose more than 84 lives a week or nearly 12 deaths every day, according to the United States Department of Labor.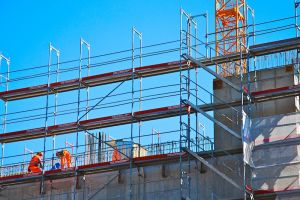 Of these fatalities, close to 4,000 occurred in the private industry. Close to 800 of them occurred in construction. With the economy seeing improvement in Southwest Florida, construction is booming. Keeping workers safe from the four main causes of construction accidents must be a priority.
These "Fatal Four" include falls, followed by struck by object, electrocution, and caught-in/between. If we are able to eliminate these risks, we could potentially save more than 400 construction worker lives each and every year.
Our experiencedconstruction accident lawyers understand that negligence is oftentimes a contributory factor in serious and fatal construction site incidents, and it's often not negligence on the part of the person who is killed. Many times it's another worker, a manager, a contractor, a supplier, a manufacturer or some other party who is negligent. A good way to address these is to incorporate them into your daily safety meeting topics and job site inspections.

Fatal Four:
-Falls: Account for 35 percent of total deaths.
-Electrocutions: Account for nearly 10 percent of total deaths.
-Struck by Object: Account for 10 percent of total deaths.
-Caught-in/between: Account for 2 percent of total deaths.
Falls: Guardrails are some of the most reliable in helping to prevent these kinds of accidents. Workers can also opt for personal protection systems like safety nets that work to break a fall should one happen. Workers can also rely on individuals' anchorage systems that use harnesses to prevent falls.
Struck By Object: Safe practices are the best way to avoid these accidents. Steer clear of heavy equipment. Workers should also wear the proper protect in and out of vehicles. When performing any kind of overhead work, workers should be sure that all materials and tools are secure.
Electrocution: These accidents most often happen when workers make contact with power lines or other energized power sources. To help to eliminate these risks, workers should inspect tools and extension cords regularly and make sure to always follow proper lockout/tagout procedures.
Caught-In/Between: Use machinery that is properly guarded. Never walk under suspended loads. Always make contact with equipment operators before walking in front of, behind or around equipment. Dress appropriately for work with pants and sleeves that are not too long or too loose. Shirts should be fitted or tucked in. Do not wear any kind of jewelry. Tie back long hair and tuck braids and ponytails behind you or into your clothing. Wear the appropriate, well-fitting gloves for your job.
In most all situations, workers who were injured on the job are eligible for workers' compensation benefits, which are designed to provide medical treatment, partially replace lost wages and help workers return to the job. In some cases, however, a worker can sue. For example, a worker can sue an employer if that employer's serious and willful misconduct caused the injury. A worker or family members can also sue a third party for causing injuries.
Associates and Bruce L. Scheiner, Attorneys for the Injured, have spent four decades fighting for the rights of injured employees. Call for a free and confidential consultation to discuss your rights. 1-800-283-2900.
More Blog Entries:
Eye Trauma a Complex Injury – Motor-Vehicle Accidents, Work Injuries, Common Causes, Florida Injury Lawyer Blog, October 25, 2013
Preventing South Florida Construction Falls with New CDC App, Florida Injury Lawyer Blog, July 31, 2013