Tourist accidents in Fort Myers often involve guests who are injured on rental equipment, like Jet Skis, or in other tourists activities, such as parasailing.
The parasailing accident in Clearwater earlier this month offers a stark reminder of how quickly such activities can turn dangerous, or even deadly. It is the second serious parasailing accident in South Florida in as many months and the Fort Myers area is not immune; A mother and her 13-year-old daughter were killed in Fort Myers in 2001 when their tow line broke in stormy weather.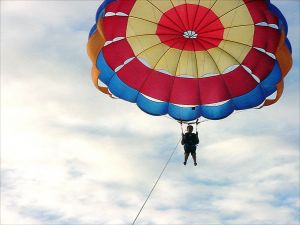 Frequently, these operations will have guests sign a waiver. Such waivers do not absolve operators from serious or fatal injuries caused by negligence. Personal watercraft are responsible for a large number of injuries each year. Renting to kids, renting poorly maintained equipment, and failure to provide proper instruction or safety gear are among the most common causes of injury accidents. Speaking to a Fort Myers personal injury lawyer or wrongful death attorney can help protect your rights in the wake of an accident while visiting Southwest Florida.
In the Clearwater parasailing accident, a 27-year-old woman was critically injured when the tether line snapped, sending her crashing onto the beach. Her fiancee landed in the water and had minor injuries. Local police, the U.S. Coast Guard and the Florida Fish and Wildlife Conservation Commission have launched an investigation into the company responsible for the ride.
Area lifeguards report a major storm had been moving into the area all afternoon. About 2:30 p.m., winds jumped from 7 mph to 22 mph — the National Weather Service reports gusts over 34 mph. About 3 p.m., the line towing the victim snapped, causing her to crash into the beach while still tethered to the runaway parachute. She reported slammed into beach umbrellas and was dragged through a volleyball court.
A spokesman for the Fish and Wildlife Conservation Commission said there are no rules regulating when parasailing companies can take people out on the water. There is also no law on the amount of insurance an operator must carry.
But when greed or negligence leads to a serious or fatal accident, a business can and should be held responsible.

Associates and Bruce L. Scheiner, Attorneys for the Injured, has spent four decades representing accident victims throughout South Florida, including Naples, Fort Myers, Cape Coral, Punta Gorda and Port Charlotte. Call 1-800-DIAL-BLS for a free and confidential appointment to discuss your rights.