Distracted walking is in the news as the nation grapples with significant increases in the number of serious and fatal pedestrian accidents.
Unfortunately, Florida is all too familiar with the crisis, as the Sunshine State leads the nation in the number of walkers who are injured or killed each year. The National Highway Traffic Safety Administration reports more than 5,000 deaths and 76,000 injuries caused by pedestrian accidents each year; that's one death every two hours. And, as the Miami Herald reported recently, 9 of the 20 deadliest cities for pedestrians are located in Florida.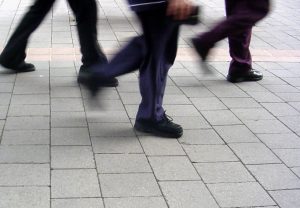 Fort Myers injury lawyers know the increased risks faced by walkers are attributable to a number of factors, including lack of proper infrastructure such as sidewalks and street lights, distraction on the part of both the walker and drivers, and the growing prevalence of electric or otherwise silent vehicles.
A study published in 2012 by researchers from New York's Stony Brook University found that those who texted while walking were 60 percent more likely to veer off course. Headphones are another growing problem. F.S. 316.304 prohibits drivers from wearing headphones, although no such law exists for pedestrian or cyclists.
But, while it's true distracted walking can increase accident risks, the issue of distracted walking is also being pushed by the insurance industry as a way to reduce the liability of insured drivers for collisions that typically result in very serious or fatal injuries.
Distracted Walking and Contributory Negligence
Florida's laws on comparative fault, F.S. 769.81, does not bar recovery by those found to be partially to blame.  Until the 1970s, victims found at fault could not collect damages from other liable parties. But a number of court decisions, including Lincenberg v. Issen, 318 So. 2d 386, 391 (Fla. 1975), and acts by the Florida legislature, including abolishment of joint and several liability in most circumstances, now allows those found partially at fault to collect damages from other at-fault parties, although damages may be reduced by proportion of blame. However, this also means victims can typically only collect from an at-fault party in proportion to assigned liability, which makes identifying all defendants even more critical to a comprehensive and successful claim for damages.
While Florida's comparative fault law may be good news for many victims who are partially to blame, the bad news is that the insurance industry and its defense attorneys frequently use comparative fault to blame victims, thereby reducing liability of the insured at-fault driver. This is one of the many reasons why an experienced  injury attorney in Fort Myers or Cape Coral should be consulted as soon as possible after a collision. Even when insurance company representatives seem to be cooperative, they are working hard to limit their own liability and are not seeking to advance your best interests.
These are complex cases that typically result in serious or fatal injuries for victims. Rarely are these cases as simple as "car hits walker — driver at fault." Hiring a Southwest Florida personal injury law firm with decades of experience is the best bet when it comes to protecting your rights and the financial welfare of you and your family.
If you or a loved one is injured, call Associates and Bruce L. Scheiner, Attorneys for the Injured, at 1-800-646-1210.