It sometimes seems as though snowbirds are replaced by orange road construction barrels as summer begins in Southwest Florida.
Florida Department of Transportation is preparing to begin significant improvements to Interstate 75 at Corkscrew Road, according to the Naples Daily News.
Meanwhile, Lee County Department of Transportation is widening Burnt Store Road from Diplomat Parkway to Tropicana Parkway in Cape Coral and the City of Fort Myers is working on a beautification project along U.S. 41 between Colonial Boulevard and downtown.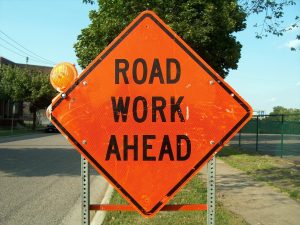 Our car accident lawyers in Fort Myers and Cape Coral know each of these projects increases the risks to motorists and pedestrians.
Liability for Road Construction Accidents
The pace of road construction in Florida is unlikely to let up anytime soon. Florida lawmakers appear poised to pass a $1.5 billion road project, that includes three new toll roads. The measure is being backed by road builders and contractors, over the objections of environmentalists.
While road construction projects are governmentally funded, they are carried out by private companies and independent contractors who are awarded the jobs through a competitive bidding process. Many of these companies survive exclusively on their ability to win such bids and complete jobs in an acceptable and timely manner, while other companies may do such improvement projects on a part-time basis.
These companies have an obligation to protect motorists from known and obvious risks, including:
Use of proper signage.
Mitigating the risk and reducing the need for lane changes and other confusing traffic patterns.
Using care when entering or exiting the travel lanes with heavy or slow-moving equipment.
Proper lighting and access for bicyclists and pedestrians.
Safely planned detours.
Maintaining proper visibility.
For their part, motorists must slow down and avoid distraction when traveling in construction zones. The Florida Department of Transportation reports Florida has the second-highest number of work zone accidents in the nation, with about half resulting in serious injuries.
An experienced Fort Myers car accident attorney should always be consulted as soon as possible after a traffic collision in a construction zone. Too often, motorists are blamed. The changing nature of construction zones means the scene of the accident may be altered significantly within days of a collision, and contractors will likely rectify any issues that may have caused or contributed to a motor-vehicle collision.
Even a motorist found partially at fault may still collect damages. Florida's laws on comparative fault, F.S. 769.81, does not bar recovery by those found to be partially to blame, although a damage award may be reduced by proportion of fault. Motorists involved in collisions in construction zones may have more avenues of recovery than those injured in traditional motor vehicle accidents. At fault parties in construction accidents may include other motorists, a general contractor or subcontractor, or the government entity responsible for hiring the contractors and funding the construction project. Workers injured in road construction accidents may also be entitled to workers' compensation benefits.
If you or a loved one is injured, call Associates and Bruce L. Scheiner, Attorneys for the Injured, at 1-800-646-1210.