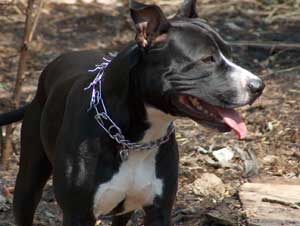 Dog bites and attacks are in the news again in Ft. Myers, FL. On August 6, 2009 the Ft. Myers Police responded to a call where a Pit Bull inflicted serious injury on a 5-year-old child. The dog had just been purchased the day before and has been turned over the Animal Control Services. Before and after purchasing a dog you should be informed. Look at the Center for Disease Control (CDC) web site http://www.cdc.gov/HomeandRecreationalSafety/Dog-Bites/biteprevention.html
for helpful information that may prevent more dog bites from happening.
The United States has almost 75 million dogs, including many that bite people. According to the CDC each American has a 1 in 50 chance of getting bitten by a dog in any given year. During an average year, 4.5 million dog bites occur in the USA and more than three-quarters of a million people require medical care.
Posing an extra risk, three breeds cause 74% of the most serious injuries: Pit Bulls, Rottweilers, and Presa Canaries. In a three-year period 2006 through 2008 Pit Bull type dogs killed 52 Americans and accounted for 59% of all fatal attacks. More information about this will be found at the National Dog Bite Victims Group web site: http://www.dogsbite.org/
At least 500 U.S. cities have adopted bread specific laws. Ohio is the only state so far which regulates Pit Bulls. The only county in Southwest Florida which currently has breed specific laws is Miami-Dade County. It is illegal in Miami-Dade County to own or keep Pit Bull Dogs, American Staffordshire Terriers, Staffordshire Bull Terriers, or any other dog that substantially conforms to any of these breeds' characteristics. Acquisition or keeping of a Pit Bull dog: $500.00 fine and County Court action to force the removal of the animal from Miami-Dade County.
Although Pit Bull advocates don't blame the dog itself, but blame the owner for not training the dog properly, fatal attacks persist. To help prevent children from being bitten by dogs, the CDC recommends teaching the following basic safety tips:
* Do not approach an unfamiliar dog.
* Do not run from a dog or scream.
* Remain motionless (e.g., "be still like a tree") when approached by an unfamiliar dog.
* If knocked over by a dog, roll into a ball and lie still (e.g., "be still like a log").
* Do not play with a dog unless supervised by an adult.
* Immediately report stray dogs or dogs displaying unusual behavior to an adult.
* Avoid direct eye contact with a dog.
* Do not disturb a dog that is sleeping, eating, or caring for puppies.
* Do not pet a dog without allowing it to see and sniff you first.
* If bitten, immediately report the bite to an adult.
If you or a loved one has been injured by a dog, contact Associates and Bruce L. Scheiner, Personal Injury Lawyers today to learn more about how we will fight for your legal rights, and stand by your side during what can be a traumatic life event. We've been focused on justice since 1971. You will benefit from our experience and you pay us nothing unless we win.