The National Highway Traffic Safety Administration has long been interested in driving down the number of rear-end collisions.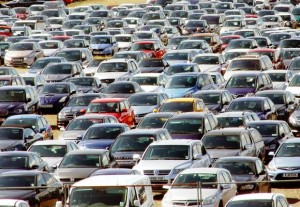 Nearly one-third of all collisions are rear-end accidents, the agency reports, and the vast majority of those are avoidable. The problem has only worsened in recent years with the proliferation of smart phones. Distraction was always a contributing factor to rear-end crashes, but now everyone has a a personal computer at their fingertips during every trip. In Florida, 1 in every 4 crashes can be attributed at least in part to some form of driver distraction.
Now, the U.S. Department of Transportation has announced that if car manufacturers want to receive a 5-Star Rating for safety, they'll have to install automatic emergency braking systems standard by 2018. The announcement comes just weeks after 10 auto manufacturers indicated they would be doing just that voluntarily within the next several years.
This was a development that was on the horizon for some time, but DOT Secretary Anthony Foxx announced the decision had been accelerated by the automakers' announcement.
To be clear: The federal safety rating system isn't a mandatory checklist, but having a top safety rating is a huge selling point for many auto dealers. People want cars that are safe. Particularly technology to help prevent crashed or help minimize damage. An estimated 30,000 people are killed annually in traffic accidents, according to the NHTSA.
With AEB technology, this figure could be significantly reduced. The NHTSA offers a comprehensive explanation of automatic braking here. There are essentially two different kinds of automatic braking technology: Dynamic Brake Support and Crash Imminent Braking. Both use a series of sensors, lasers, cameras and other features to help achieve crash avoidance.
With Dynamic Brake Support, when a driver brakes but not hard enough to avoid impact, the DBS will automatically supplement the driver's brake effort to help avoid the crash. With Crash Imminent Braking, the system will apply the brakes or even stop the car if a driver fails to take any action to avoid a rear-end crash. This can help to minimize the severity of the crash, or possibly help avoid it altogether.
These systems may also first offer a verbal warning to alert drivers when the vehicle's auto emergency brakes are about to kick in.
The Insurance Institute for Highway Safety reports this move has the potential to drive down auto insurance claims by as much as 35 percent. The 10 manufacturers who have already promised compliance represent nearly 60 percent of the cars on the market.
This initiative is part of a continuing effort by the NHTSA to make these technologies available to everyone, and not just wealthier buyers who can afford high-end add-ons. The agency first started recommending advanced safety technologies on vehicles for the rating system back in 2011. Since then, the agency has required electronic stability control, forward collision warning, rear view video systems and lane departure warning. Now, electronic stability control is available for all new light vehicles, and rear view cameras will be standard by 2019.
Call Associates and Bruce L. Scheiner, Attorneys for the Injured, at 1-800-646-1210.
Additional Resources:
U.S. DOT to add automatic emergency braking to list of recommended advanced safety technologies in 5-Star Rating System, Nov. 2, 2015, NHTSA
More Blog Entries:
Uspenskaya v. Meline – Collateral Source Rule in Injury Cases, Nov. 8, 2015, Fort Myers Car Accident Attorney Blog