Usually when we hear about construction worker injury in Fort Myers, it's because of some awful, dramatic accident, such as a roadside collision, major fall or electrocution. However, a new study conducted by The Center for Construction Research and Training indicated that the more pervasive problem for most construction workers is the risk of work-related injury to the joints, nerves, tendons and muscles.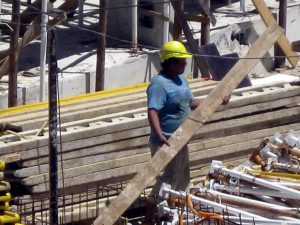 Sprain and strains are a constant source of workers' compensation claims for construction workers, with study authors opining the estimated loss of wages for private industry construction workers in 2014 was about $46 million. The injuries are caused by a number of elements construction workers face on a regular basis, including:
Excessive exposure to vibration
Bending
Twisting
Awkward work postures
Overwork
Static posture
Poorly-designed tools
Extreme temperatures
Poor work organization (i.e., not enough rest breaks, poor supervision, not enough workers, etc.)
Repetition
Researchers concluded one of the most common catalysts was overexertion, with the back being the primary part of the body that is impacted. Adopting ergonomic solutions may help. These are solutions that take into account the body's position and determine what fixes may reduce bodily strain. Similar solutions can involve things like hand tools. For instances, the best tool is one that fits the job being done, fits the available work space, fits your hand and can be used in a work position that is comfortable.
Personal protective equipment, such as knee pads, shoulder pads or gloves that reduce vibration, can also be helpful.
Examples of musculoskeletal injuries include:
Tendinitis
Bursitis
Carpal tunnel syndrome
According to OSHA, while all construction workers are at high risk of these injuries than those in the general labor force, those construction workers especially at risk include:
Laborers
Helpers
Plumbers
Carpenters
HVAC employees
Sheet metal workers
Iron workers
Electricians
The study authors looked occupational injury and illness data from 1992 through 2014, as well as population surveys and employment statistics. What they discovered was that musculoskeletal injuries among construction workers actually feel from 55,000 that first year to 18,000 in 2014. That's good news, but one has to bear in mind that during this time, all types of construction injuries decreased during this time frame. The cause for concern here is the fact that 1 out of every 4 non-lethal construction injuries is attributed to musculoskeletal injuries.
What's more, there is reason to be concerned that we may soon see an uptick in these kinds of problems among those in construction fields. This has to do with two significant risk factors that increase the odds of suffering this type of injury: Age and time on the job. The overall percentage of workers aged 55 to 64 who suffered a musculoskeletal injury went from 6.4 percent to 11.5 percent. As the population ages, we are seeing an increasing number of construction workers who are delaying retirement, which is likely going to mean we're going to see more of these injuries in the coming years.
Workers who suffer a construction injury should consult with an experienced Fort Myers injury attorney.
Call Associates and Bruce L. Scheiner, Attorneys for the Injured, at 1-800-646-1210.
Additional Resources:
Construction workers still at high risk for strains and sprains, Jan. 16, 2017, Reuters
More Blog Entries:
Vasquez v. American Cas. Co. of Reading – UIM Benefits Conflict With Workers' Compensation, Nov. 6, 2017, Fort Myers Construction Injury Lawyer Blog