At Associates and Bruce L. Scheiner, Attorneys for the Injured, we laud the hard work and sacrifice of our emergency responders. That includes police, firefighters and EMS workers who routinely rush into potentially dangerous situations for the safety and well-being of others.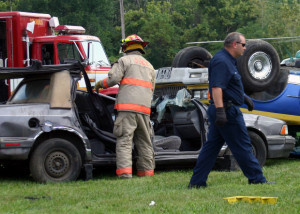 This said, there was a troubling report recently released following an investigation by the Naples Daily News that raises concerns about the level of distraction with which these workers contend when they drive.
The newspaper found that more than 4,100 crashes throughout Florida in recent years were caused by distraction and involved an emergency responder. These are supposed to be the best-trained drivers in the state, and yet these workers – especially in Southwest Florida – had an especially high rate of distraction-related crashes when compared to the general public.
Reporters scoured records from 2 million Florida car accidents from 2011 to 2014. During that stretch, 977 crashes involved law enforcement officers, medics and firefighters in Lee and Collier counties. Of those, 171 were caused by distraction. That means about 18 percent of these workers were involved in distraction-related crashes, compared to about 11 percent of the general public.
Although emergency workers were rarely ever ticketed, they were deemed at-fault in at least 66 of those instances. That's about 40 percent. The result has been some $800,000 in injury liability payments.
These figures are most likely conservative, the news outlet stated, because not all crashes involving emergency responders result in the filing of an official report. Plus, there is likely some subjectivity involved in classifying a driver as distracted. There is some suggestion that one officer may be reticent to classify another as "distracted" in a formal report, which could lead to disciplinary action.
As our injury lawyers well know, bringing a case against the state or county can be difficult. One must overcome assertions of sovereign immunity, and damages are also likely to be capped to some degree.
Tickets were issued in just seven of the cases in which emergency workers were found at-fault.
Most of the time, these drivers were distracted by something in the vehicle, such as cell phones, in-vehicle computers or passengers. One was reportedly distracted by paperwork falling from a visor. In another case, an ambulance driver rear-ended a vehicle in front of him while placing a radio microphone back onto the holding device.
Some former police officers describe the inside of a cruiser as something akin to the inside of a fighter jet, with numerous controls, machines, computers and radios.
Distractions from outside the vehicle included police distracted by other drivers running red lights, loose dogs and sun glare.
In the majority of cases, the outcome is not serious. The emergency responder struck a mailbox or caused a minor rear-end crash.
However, there have been a number of recent distracted driving cases involving these workers that had serious results.
It is worth noting emergency responders spend a lot more time behind the wheel than most drivers, so the potential for an accident in general may be higher than for the rest of the population.
Some police agencies have begun barring the use of mobile technology and wireless devices while the vehicle is in motion, but most distracted driving laws exempt emergency personnel.
Call Associates and Bruce L. Scheiner, Attorneys for the Injured, at 1-800-646-1210.
Additional Resources:
Collier, Lee emergency responders have high rate of distracted-driving crashes, July 17, 2015, By Ryan Mills, Naples Daily News
More Blog Entries:
Report: Lee County Traffic Deaths on the Rise, July 15, 2015, Fort Myers Car Accident Attorney Blog