In car accident lawsuits, it is not uncommon for both sides to present testimony from experts to prove their respective positions. Experts could range from medical doctors, who would attest to extent of injuries, causation of injuries and reasonable treatments for those injuries. Accident reconstructionists could attest to the nature and cause of the crash. Mental health experts could speak to the emotional trauma.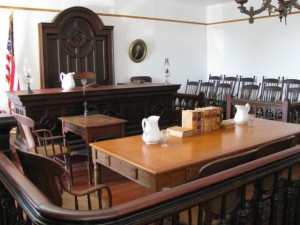 It's also fairly common for insurance companies to consult the same experts over and over again. These expert witnesses are compensated for their time and travel.
This can raise questions of bias when insurers use the same witnesses repeatedly. In effect, these witnesses derive a substantial profit from testifying on a regular basis on behalf of insurance companies/defendants, and this may raise valid questions regarding the witness's potential bias.
This can be a fair issue for plaintiffs to raise, though courts have not approached these matters uniformly and injury victims do need to be careful in calling into question the credibility of certain respected professionals.
In the recent Alaska Supreme Court case of Ray v. Draeger, stemming from an automobile accident, plaintiff sought to do just that.
According to court records, plaintiff was a passenger in a vehicle rear-ended by defendant. There had been no serious physical damage to either vehicle, as the collision had been described as low-speed, low-impact. Although plaintiff did not complain of injuries immediately after the crash, she later began to experience neck and shoulder pain.
Plaintiff underwent two dozen chiropractor treatments over the course of the next several months, at a total cost of $5,200, and also sought treatment from a physical therapist nine times in following months.
Defendant conceded liability for the accident, but disputed extent of plaintiff's injuries and other damages.
Defendant's insurance company paid for her defense, which filed a motion in limine asking the court to preclude any reference to the fact that defendant had liability insurance coverage. Plaintiff responded with partial opposition, saying she wanted the opportunity to question the orthopedic surgeon hired by defense to give expert witness testimony on his potential bias. Specifically, she wanted to present to the jury the fact that a "substantial" portion of his work as a medical expert was derived from insurance company referrals. This insurer in particular he had testified for numerous times.
The doctor earned $800,000 annually, of which $400,000 to $450,000 was derived from insurance company referrals and related exam work.
Trial court granted defense motion, saying plaintiff's assertion of potential bias had minimal relevance. However, plaintiff was allowed to question expert witness on the general issue of bias as it related to the nature of his work, including whether there were financial reasons he may continue working for defendants.
Jurors heard the case and awarded plaintiff exactly $5,200 for her past economic losses and $775 for non-economic damages. She received no damage award for future economic losses.
Plaintiff appealed, and superior court ruled trial court erred in barring questioning about the extent to which he was paid for his work with the insurance company. The case was remanded for a new trial.
On appeal of that order to the Alaska Supreme Court, defendant's argued this was improper. The state supreme court affirmed in part, finding district court had erred in barring cross-examination of the doctor on this point. However, justices ruled a new trial was not warranted because the error was harmless, as plaintiff was given the opportunity to question expert's financial incentive for working as a witness for insurance companies.
Call Associates and Bruce L. Scheiner, Attorneys for the Injured, at 1-800-646-1210.
Additional Resources:
Ray v. Draeger, July 17, 2015, Alaska Supreme Court
More Blog Entries:
Growing Number of Fort Myers Traffic Deaths Frustrates Safety Advocates, July 18, 2015, Cape Coral Car Accident Attorney Blog