Florida has for years now held the dubious distinction of having the highest rate and bicycle accidents and related deaths. Lee County has historically been one of the worst locations, ranking 10th in the state, with regular riders and tourists alike constantly at risk.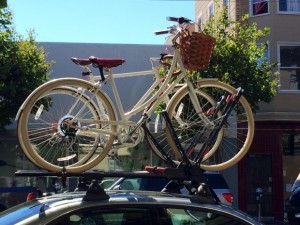 In 2014, there were a slew of incidents involving anti-cyclist rhetoric. There was the man who ran over a row of bicyclists on Fort Myers Beach before declaring to a doctor who rushed to their aid, "I should have hit them harder." There was the Naples woman who allegedly spat on a bicyclist after plowing into him. And there was the Cape Coral cyclist who dodged a motorist's bullets after shouting at him to slow down.
All of this prompted a novel approach by The Fort Myers News-Press: Advocacy in journalism. Though objectivity is a core tenant of journalism, the paper of record took an unabashed role of advocating for fewer bicycle accidents and deaths. Now, it looks like it may have actually worked, at least to some degree. 
2015 marked the first time in years the county did not see a sharp uptick in bicycle accidents and deaths in Southwest Florida, The News-Press reported.
In Collier County, for example, bike accidents dipped from 137 to 100, which is the lowest since 2011. In Lee County, preliminary figures from the state indicate there were 226 bicycle accidents in 2015. That's about as many as there were a year earlier, but the number of fatalities decreased from 9 to 4.
Cyclists reported there is less day-to-day harassment from drivers. More motorists giving cyclists a wider berth on the roadway. Overall, there seems to be greater awareness.Some advocates are reticent to say there has been a total cultural shift. But certainly, the figures are encouraging.
In addition to the advocacy of News-Press reporters, there have been a number of collaborators working on the issue. The Naples Pathway Coalition has instituted "Share the Road" rides. There have been a number of bike-friendly signs erected and renovated roadways that are intended to be more accommodating. Rep. Kathleen Passidomo, R-Collier, has pushed for legislation that would better protect cyclists and other vulnerable road users (such as pedestrians). Leaders and advocates in Cape Coral created a scenic bike route map that would lead cyclists on a safer path through that city. The League of American Bicyclists recently awarded bike-friendly awards to both Cape Coral and Naples for their ongoing efforts. Officials form the Florida Highway Patrol have been conducting awareness campaigns in high schools. Grants for pedestrian and bicyclist outreach have been secured by both the Lee County Sheriff's Office and the Fort Myers Police Department.
There are still legitimate concerns. Bicycle accidents didn't decline in Lee County, and the way most roads are designed in this county is still a major issue. There are high speed limits, few crosswalks and narrow shoulders. Intersections in particular are hazardous, especially where drivers making right turns fail to observe bicyclists traveling the other way.
The bottom line is that while advocates are not ready to announce a trend reversal over one year of data, they do hope this is just the beginning. So do we.
Call Associates and Bruce L. Scheiner, Attorneys for the Injured, at 1-800-646-1210.
Additional Resources:
Serra v. Estate of Broughton – Exchange Student to Receive UM/ UIM Benefits of Host Family, Jan. 6, 2015, Fort Myers Bicycle Accident Lawyer