A motorcycle accident victim will have the opportunity for a new trial after an appeals court ruled the trial judge erred in excluding certain evidence that would have been beneficial to the plaintiff.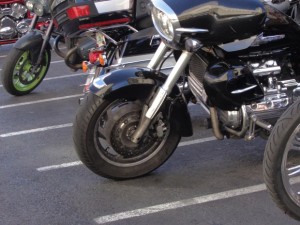 Summerhill v. Klauer was an accident that involved a motorcyclist and a moped rider in Indiana. We explore the case here as some of the legal matters at issue are pertinent to motorcycle accident victims in Fort Myers too.
According to court records, the excluded evidence at issue was:
Plaintiff's accident reconstruction expert witness testimony;
Evidence of defendant's dishonesty, based on a decades-old fraud conviction which he lied about under oath in these proceedings;
Plaintiff's expert medical witness testimony as to the likelihood his injuries were result in post-traumatic arthritis in the future.
On all of these matters, trial judge ruled in favor of defense. The Indiana Court of Appeals determined that to do so was an abuse of trial court discretion, resulting in the necessity of a new trial.
According to court records, plaintiff was riding his moped home after visiting with friends when the sky seemed on the verge of opening up with heavy rain. He saw a building on the left and decided he should turn to take shelter under the overhang.
Behind him were three motorcyclists. One passed the moped rider on the left. A second tried to pass in the same manner, but while he was doing so, the moped rider tried to make his left turn. The rear left side of the moped hit the front right side of the motorcycle. The force of impact sent the moped rider off his vehicle, where he shattered his hip and suffered other injuries.
The responding officer filled out a crash report indicating the "primary cause" of the crash was "improper turning," indicating the moped rider was at fault for wrongly turning left.
He racked up $80,000 in medical bills and had to use a walker and crutches for months.
Moped rider sued motorcyclist for following too closely, failing to maintain control of the motorcycle and driving at a speed unsafe for conditions. Defendant denied the allegations.
Plaintiff introduced testimony of a police officer and accident reconstructionist who opined the responding officer's report was erroneous and should have instead cited the motorcyclist for improper passing and/or following too closely.
Defense objected to this testimony, arguing it did not have enough legal basis. Trial court agreed it should not be considered.
Then, plaintiff sought to introduce evidence of defendant's dishonesty, citing his check fraud conviction years earlier and the fact that he'd lied about it under oath when being questioned in this case. Normally, decades-old criminal convictions might not factor, except for that there were conflicting accounts of how the crash actually happened. Defense argued plaintiff was in the right lane with his right turn signal on when he turned left. Plaintiff countered he was in the center lane with his left turn signal on when he turned left. Trial court didn't allow plaintiff to raise this issue.
Then there was the matter of plaintiff's expert medical witness testimony, which trial court agreed with defense was speculative.
The case went to trial, and jurors declined to find defendant liable.
Plaintiff appealed on grounds trial court made a number of errors in excluding evidence. Appeals court agreed.
With regard to the reconstructionist, appeals court found the witness was qualified to reconstruct the scene and wasn't obligated to produce numerous alternative theories as to what could have happened. He was also qualified to reach a professional conclusion as to the cause of the crash.
As for the defendant's credibility, normally old unrelated criminal convictions wouldn't come into play in a personal injury negligence case. But when the person in question lies about it under oath in the current proceedings, appellate court found this is highly relevant, particularly when there are so many issues of fact in dispute.
Finally, with regard to the medical witness, appeals court determined the witness had produced ample evidence to back her assertions that plaintiff was more likely to have future problems with arthritis than someone who had not suffered these specific injuries.
Call Associates and Bruce L. Scheiner, Attorneys for the Injured, at 1-800-646-1210.
Additional Resources:
Summerhill v. Klauer , Dec. 31, 2015, Indiana Court of Appeals
More Blog Entries:
South Florida Judge Rejects Waiver as Absolution Argument by Crash Defendants, Dec. 28, 2015, Fort Myers Motorcycle Accident Lawyer