There are varying approaches taken by each state to the issue of how to handle injury claims made by plaintiffs who may have shared some portion of fault. On one extreme, there are states that will totally bar recovery if plaintiff is to any degree at-fault for the incident resulting in injury. Other states will only prohibit collection of damages if plaintiff's percentage of fault is at or exceeding 50- or 51- percent (known as modified comparative fault).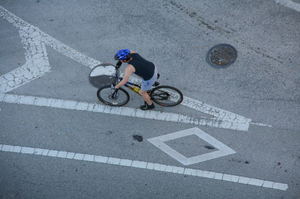 Florida, by contrast, follows a model of pure comparative fault. The legal standard, as set forth in F.S. 768.81(2), is a plaintiff's percentage of fault will diminish proportionately the amount he is entitled to recover. However, the existence of fault – to any degree – is not a bar of recovery. That means a plaintiff could theoretically be 99 percent at fault, and still collect 1 percent in damages if he succeeds in the civil case.
This issue sometimes arises in bicycling accident cases. 2014 was an especially deadly year for bicyclists in South Florida, prompting advocacy groups to pressure legislators for greater protections. Collier County commissioners in December voted to accept an ordinance making it illegal to harass bicyclists by throwing objects, threatening them, honking or shouting at them or doing anything to threaten their safety.

Hopefully, such measures will help reduce the number of car-versus-bicycle crashes, but they won't eliminate them entirely. Where bicyclists may share some degree of responsibility for the crash, they should still not hesitate to contact an experienced injury lawyer for more information on legal options and rights.
In the recent case of Semian v. Ledgemere Transportation, Inc., the question of comparative fault was central to the issue of damages for a bicyclist injured in a crash with a bus in Maine. That state follows a modified comparative fault model, so as long as plaintiff's share of fault was less than 50 percent, she could still successfully pursue damages.
According to court records, plaintiff was a 29-year-old student who was riding a bicycle when she passed a public school bus owned and operated by a private transportation company as the bus was stopped at an intersection. Witness statements indicate the bus was straddling the right and straight turn lanes. The driver started to move forward on a straight trajectory, but then paused. This gave cyclist reason to believe the driver would continue moving straight. Therefore, she continued riding and passed the bus on the right.
However, the bus did not proceed straight. It turned right. Cyclist was unable to stop, and she struck the side of the bus, fell under it and then suffered extensive injuries when she was run over by the wheels.
Following a five-day jury trial, the court ruled plaintiff was 25 percent at-fault while bus driver was 75 percent at-fault. Plaintiff was awarded $1 million in damages, minus $250,000 for her own portion of fault.
Defendant appealed on grounds plaintiff broke the law by passing on the right, and thus should not have been eligible to collect damages. The Maine Supreme Judicial Court accepted review of the appeal, but rejected defendant's argument. The court found just because the cyclist shared a portion of the blame did not absolve or insulate the other motorist from liability.
Call Associates and Bruce L. Scheiner, Attorneys for the Injured, at 1-800-646-1210.
Additional Resources:
Semian v. Ledgemere Transp., Inc., Dec. 16, 2014, Maine Supreme Judicial Court
More Blog Entries:
Lee County Bicycle Injuries, Deaths Continue to Mount, Dec. 21, 2014, Fort Myers Bicycle Accident Lawyer Blog