Florida is an attractive retirement destination and many elderly people live within the state. Unfortunately, in Florida and in many other parts of the country, older people often have a hard time getting around. In fact, as Aging in Place Stuck Without Options points out, by 2015 there will be 15.5 million elder Americans ages 65 and up living in communities with either no public transportation or with very limited public transportation. Seniors who cannot drive and who do not have access to buses or other reliable public transportation may have no options but to move into assisted living facilities or to try to walk to their destinations.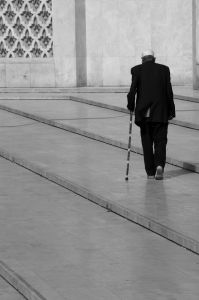 Our Fort Myers accident attorneys know that those seniors who choose to walk will face major risks. This is because the odds of dying in a pedestrian traffic accident double for those over the age of 75 when compared with younger walkers ages 34 and under.
Seniors at Risk in Pedestrian Accidents
WMBB Panama City Florida recently published an article about the dangers that older pedestrians face. According to the article, CDC experts reviewed data on the more than 34,000 traffic accidents that occurred each year in the United States. The CDC looked at this data from 2001 to 2010 to get a better idea of how older pedestrians were faring.
What they found was that elderly pedestrians were about twice as likely to die in pedestrian crashes than people under the age of 34. The CDC experts who commented on the finding also indicated that this problem is probably going to get worse as more people age. With no public transportation in so many areas, those who want to remain independent for as long as they can will likely be forced to try to walk if they need to go somewhere.
The CDC also cautions that this higher death rate for seniors exists despite the fact that seniors actually take fewer walks than young people. This means that the higher death rate cannot necessarily be attributed to the fact that there are simply more senior walkers. Instead, there are other factors that make senior citizens more likely to die in pedestrian accidents.
Some of the factors that up the chance of a fatality for a senior walker include:
An increased chance of an accident occurring. Due to limited mobility, cognitive and physical impairments, senior pedestrians may be more likely than their younger counterparts to get into a pedestrian accident. Seniors may also have a more difficult time getting out of the way if they are in the path of an oncoming car because they cannot move quickly enough.
An increased chance of dying when an accident does occur. Due to weaker aged bodies as well as existing health issues, seniors in general are more likely to die if they are involved in a pedestrian crash than those who are younger.
This is a major problem that is likely to only get worse as the baby boomers age. Loved ones and family members of seniors will need to try to take action to ensure their older relatives are safe and not in danger of getting hurt in pedestrian crashes.

Associates and Bruce L. Scheiner, Attorneys for the Injured, is a law firm that is dedicated to fighting for the rights of accident victims. If you were injured in a pedestrian accident, call for a free and confidential consultation to discuss your rights. Call 1-800-283-2900.
Additional Resources:
Older Riders at High Risk of Injury in Southwest Florida Motorcycle Accidents, Florida Injury Lawyer Blog, February 20, 2013
Florida Drivers in Support of Text Message Ban, Survey Says, Florida Injury lawyer Blog, April 17, 2013