Half a dozen concussion lawsuits have been filed against colleges and the National Collegiate Athletic Association (NCAA), claiming negligence for the handling of their sports-related head injuries.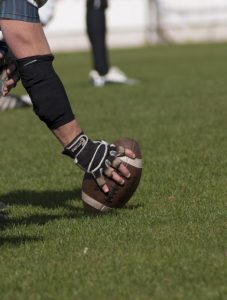 According to The New York Times, this marks the latest effort by former college athletes who are seeking financial compensation for what they say are the lasting effects they suffered as a result of undiagnosed and improperly treated concussions. The lawsuits name Penn State, Vanderbilt, Auburn, Georgia, Oregon and Utah, as well as three major football conferences: the Southeastern Conference, the Big Ten and Pacific-12.
These lawsuits follow a proposed federal class action settlement covering all collegiate athletes who suffered concussion-related head injuries and the NCAA. However, that settlement, later approved by a federal judge, only included updated safety protocols – no actual payments made to former players. It did include setting aside $70 million for medical screenings of former college athletes. 
This legal action comes at a pivotal time for many parents considering whether to enroll their younger children in contact sports in the fall.
When it comes to which sports are the most dangerous, the National Safety Commission's National Electronic Injury Surveillance System reveals the sports that most frequently send children to the emergency room between 2007 and 2012:
Football – 240,000 ER visits annually;
Bicycling – 192,000 ER visits annually;
Basketball – 189,500 ER visits annually;
Baseball/ Softball – 112,500 ER visits annually;
Soccer – 99,000 ER visits annually.
Specifically with regard to football, it's the most-watched sport in America. Forty-six of the 50 most-watched sports events in the U.S. are football games.
And yet, in the wake of a growing amount of evidence that youth football is strongly correlated with head injuries, enrollment numbers have been declining. For example, NerdWallet reports that between 2010 and 2012, enrollment in Pop Warner football declined by 9.5 percent. USA Football, another popular youth football organization, saw a nearly 7 percent drop in 2011 among players between the ages of 6 and 14.
In addition to head injuries, there are also ankle and knee injuries and shoulder dislocations.
Although some organizations chalk up injuries as "part of the game," there is a growing body of negligence that child sports injuries not only can be better treated, but they can often be prevented with proper policies and procedure.
If a school-sponsored or private youth sports organization is negligent in preventing child injury or in treating, it, they may be held accountable to compensate the child and family.
The plaintiffs in this case had college careers decades before the NCAA started requiring its members to abide concussion protocols, which was in 2010. The players alleged their college sports-related head injuries have resulted in them suffering years of depression, mood swings, sleeplessness and other ailments.
Some legal experts have expressed skepticism about whether these entities can be held responsible. At the very least, it will be tougher than the lawsuits by former National Football League players who ultimately prevailed.
The earlier settlement signed off on by the judge hasn't actually been finalized by the NCAA but it specifically does not create immunity for the agency from future class action lawsuits from other players.
Call Associates and Bruce L. Scheiner, Attorneys for the Injured, at 1-800-646-1210.
Additional Resources:
Six Concussion Lawsuits are Filed against Colleges and NCAA, May 17, 2016, By Ben Strauss, The New York Times
More Blog Entries:
Florida Texting and Driving Law Lacks Leverage, June 2, 2016, Florida Personal Injury Attorney Blog