When a tornado struck at an air show in Polk County four years ago, a worker took shelter inside a security guard shack. But that shack did not provide the protection she'd hoped. It was instead lifted off the ground, overturned and tossed into a nearby ditch by the powerful storm.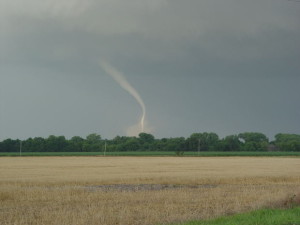 The injuries she sustained were clearly compensable under workers' compensation laws. After all, there was no dispute she had been working (as a security guard) at the time of the incident. She made a claim for – and received – workers' compensation benefits from her employer, a security firm.
However, the question that would later arise in Slora v. Sun 'N Fly-In, Inc. was whether the organizer of the airshow was also considered an employer. Of course, it was not her direct employer. But when the injured security guard filed a third-party liability lawsuit against the air show organizer, the company asserted it was a contractual employer.
The reason the company fought to assert employer status is because employers benefit from the exclusive remedy provision of workers' compensation. They must pay workers' compensation benefits to employees injured while working – regardless of who was negligent – but they can't also be sued. Workers' compensation benefits are thus sometimes the exclusive remedy for those injured on the job. In some instances, that exclusive remedy provision can be extended to others aside from the employer, such as co-workers and, in some cases, contractors.
Third parties who may have been negligent in causing injury to the worker are not protected by exclusive remedy, and workers can pursue additional damages from them.
So the question of whether the air show organizer was an employer was critical to this personal injury lawsuit. Plaintiff alleged the inclement weather was a foreseeable hazard, and organizers should have provided a safer shelter for those who were on site.
In support of its position, the company outlined the agreement it reached with the Federal Aviation Administration (FAA). In order to operate the airshow, organizer had to get permits from the FAA, and during this time, it sought waivers for certain regulations. For example, it sought a waiver for allowing planes to fly lower than they normally would otherwise and also allowing the planes to fly over congested areas, where aircraft would otherwise be banned. The waiver requests were granted, on the condition the organizers make sure they had enough security for the event.
The organizer in turn hired the security company, for whom plaintiff was an employee.
After the storm and after plaintiff filed her complaint against organizer, it asserted immunity under F.S. 440.10(1)(b), which extends immunity to contractors that sublet any part or parts of contract work to subcontractors. Defense argued it was entitled to immunity because the certificates of waiver issued by the FAA were akin to a contract that imposed an obligation for security, which it then subcontracted to plaintiff's employer.
Trial court agreed and granted summary judgement to defense, but Florida's 2nd District Court of Appeal reversed and remanded. That waiver, the appeals court ruled, was not a contract, but rather licensing and permitting.
In order to be entitled to immunity, the organizer would have needed to show it incurred a contractual obligation to a third party, part of which was delegated to a subcontractor or sublet. However, the certificates of waiver were essentially issued by a government agency to allow them to engage in activity that would otherwise be restricted or forbidden. In contrast, contracts are bargained-for agreements.
These are two distinct relationships. Although this point remains an issue of disputed fact between the parties, the evidence was not so straightforward as to decide the case in defense favor as a matter of law.
Call Associates and Bruce L. Scheiner, Attorneys for the Injured, at 1-800-646-1210.
Additional Resources:
Slora v. Sun 'N Fly-In, Inc., Aug. 26, 2015, Florida's Second District Court of Appeal
More Blog Entries:
Uber Sued for Misrepresenting Driver Safety to Public, Aug. 31, 2015, Fort Myers Work Injury Attorney Blog