One moment, a 45-year-old Fort Myers bicyclist was enjoying a warm afternoon ride in Charlotte County. The next, his bicycle was clipped by a vehicle, throwing him into the air and causing him to suffer critical injuries.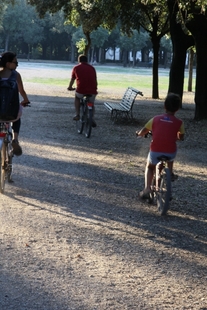 He was flown by helicopter to Lee Memorial Hospital, where his injuries are said to be life-threatening. As investigators continue to analyze the crash, our Fort Myers bicycle accident lawyers understand that the goal of curbing such incidents in the future has taken center stage in Lee County.
Local media reports that more than $10 million of federal grant money has been earmarked for the creation of 70 miles of bike paths, which should allow bicyclists a safer alternative to roadside traveling.

While bicyclists have every right to share the road with motor vehicles, in Florida, they face a host of dangers. In fact, Florida has the highest number of fatalities in the country when it comes to bicycle crashes, according to the National Highway Traffic Safety Administration.
In 2011, state officials here reported 2,398 total traffic fatalities. Of those, 125 were bicyclists, which comprised 5.2 percent of the total. The only state that even came close to that was California, which reported 114 bicycle fatalities that same year, comprising 4.1 percent of the total. That was followed by New Mexico, which reported 57 bicycle fatalities, comprising 4.9 percent of the total number of fatal crashes.
Such an abysmal record has made driving down the number of bicycle fatalities a top priority for Florida traffic officials. That's what makes this federal grant from the U.S. Department of Transportation so significant.
U.S. Secretary of Transportation Anthony Foxx reported that 22 percent of Lee County's fatal crashes involved either bicyclists or pedestrians, which is far higher than the national and even the state average. This grant should help to change that by making it safer for those who wish to bike for both recreation and routine transportation.
The money, derived from the Transportation Investment Generating Economic Recovery Grant (or TIGER), is one of several dozen transportation projects unveiled in 37 different states.
Specifically, the money here is going to the construction of 73 miles of new bike paths, including a 35-mile segment that will run near Lakes Regional Park. With the park as an anchor, this new leg will serve to connect the two spring training stadiums (Hammond Stadium and Jet Blue Park), which will additionally serve to encourage alternate transportation to the games and other entertainment venues.
Another segment will link the Florida Gulf Coast University campus to the rest of the county and a third will connect Bonita Springs to Collier County. The last one will also incorporate sidewalks and new bus shelters to further bolster the newly-established Lee-Collier transit bus route.
Call Associates and Bruce L. Scheiner, Attorneys for the Injured, for a free and confidential consultation to discuss your rights. 1-800-646-1210.
Additional Resources:
Almost $10.5 million to help Lee County build bike paths, Sept. 5, 2013, Staff Report, WINK News
More Blog Entries:
Safe Florida Biking through Summer, July 16, 2013, Fort Myers Bicycle Accident Lawyer Blog