Recently, a 67-year-old woman was killed in a Fort Myers Beach pedestrian accident. It happened on a Friday night when the pedestrian attempted to cross Estero Boulevard on Fort Myers Beach. She was crossing the street with her family when the accident happened. The driver involved in the accident says that he didn't see the family or the victim in the road until it was too late, according to WINK News Now.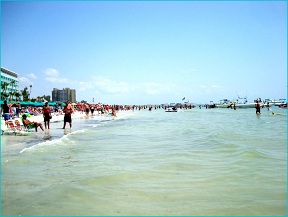 "It's not only during the tourist season, it's off-season as well, where we experience fatalities, pedestrians, bicycles, people getting hit by cars," said Fort Myers Beach Mayor Larry Kiker.
Our Fort Myers Beach accident attorneys understand that firefighters, officers and other officials on the beach hear these kinds of stories all too often, especially during Spring Break. In addition to pedestrian accidents, we have increased risks for drunk-driving car accidents and hotel-related accidents. It's important that if you decide you are going to party during Spring Break, be responsible about it and make sure you know the rules, your limitations and your rights before things get out of hand.
Under our state's law, hotel owners are required to minimize all of the dangers that can be found on their premises, in their rooms and on their balconies. For example, all hotel and condo balcony railings have to be at least 42-inches high. Florida state law also mandates that spaces between railing bars to be no more than four inches apart. Both of these requirements are to help to reduce the risks of a guests falling over or through the railing.
At the same time, hotel owners and managers are required to keep floors and walkways clear of debris or other fall-related hazards. Slick floors are to be cleaned immediately and warning signs are to be placed near these locations. In addition to regulating balconies and keeping walkways clean, property owners have a plethora of other regulations to follow to help keep you safe during your spring vacation. Make sure you're aware of your rights and of the responsibilities of property owners before heading out.
While we ask all residents and Spring Break visitors to be safe and cautious during this year's Spring Break festivities, we also ask hotel owners and managers to make sure that their facilities are safe and danger-free for visiting guests.
While owners and managers are in charge of keeping hotels, motels and condos safe for visitors, the Florida Highway Patrol (FHP) will be working to keep our roadways safe and free of drunk drivers. According to the Florida Department of Highway Safety and Motor Vehicles (FLHSMV), troopers have been combing our roadways in search of intoxicated drivers. This enforcement effort is all a part of the state's Drive Sober or Get Pulled Over campaign. Troopers will also be looking for speeding drivers and drivers who aren't buckled up!
"The Florida Highway Patrol continues to make DUI (Driving Under the Influence) enforcement a priority," said FHP Director, Col. David Brierton. Having a designated driver and planning ahead will make your trip safer."
Spring Break on Fort Myers Beach and elsewhere in Lee and Collier counties can be hectic. Residents and visitors are asked to be safe and responsible during their week of fun in the sun.

Associates and Bruce L. Scheiner, Attorneys for the Injured, is a law firm dedicated to helping those who have been injured in Spring Break-related accidents in Fort Myers, Bonita Springs, Cape Coral and elsewhere throughout Southwest Florida. Call today to schedule a free and confidential appointment to discuss your rights. 1-800-283-2900.
More Blog Entries:
Fort Myers Drunk Drivers a Problem During Spring Break, Florida Injury Lawyer Blog March 2, 2012