Thirty-seven years this May is the grim anniversary of the collapse of the Sunshine Skyway Bridge in St. Petersburg. In 1980, the southbound span, which opened in 1971, was destroyed when a freighter collided with the pier during a thunderstorm. This caused some 1,200 feet of the bridge to go tumbling into Tampa Bay, taking six cars, a truck and a Greyhound bus with it. In all, 35 people were killed. Only one man survived the bridge collapse.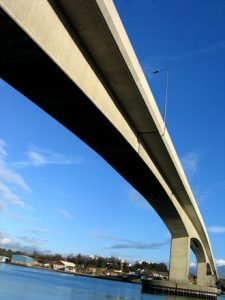 Liability was later deemed to be on the shoulders of the shipping company, though it called into question the structural integrity of bridges statewide. These are the kinds of incidents one must anticipate: Crashes, natural disasters and everyday erosion.
Recently, reporters from The Washington Post conducted an analysis of the structural integrity of bridges nationally, creating a database searchable by county. 
The good news is that overall, Florida ranks better than elsewhere in the nation. This largely has to do with the fact that the infrastructure in the Sunshine State is much younger than elsewhere in the country. For example, Disney only opened in 1971, and that kicked off explosive growth in that region.
Here in Southwest Florida, we've seen growth spurts in population, including in the post-1960s and then again in the 1990s. Our infrastructure dating mirrors this growth. However, there are always concerns that issues such as a major crash involving a large boat or truck could cause damage, to say nothing of the issues posed by natural disasters.
Here in Lee County, the good news is we have no bridges that are structurally deficient, meaning none that have defects that require attention. However, we do have 70 out of 377 that are considered functionally obsolete. These bridges aren't necessarily at risk of collapsing, but do likely need repair and can't handle current traffic needs. Bridges that have posted load limits are in the greatest need of repair.
The national average of structurally deficient bridges is 9.4 percent.
Some of the areas surrounding Fort Myers aren't faring so well. For example, in Collier County, three are rated as structurally deficient. That includes a property access road crossing a canal over Route 29, built in 1920, a utilities access road crossing a canal over Route 29, built in 1960 and rebuilt in 1997 and a Pine Oaks Access road crossing Birdon Canal built in 1950. Additionally, 32 bridges in Collier County are rated as structurally obsolete.
In Charlotte County, none of the bridges were structurally deficient, but 18 were functionally obsolete.
In comparison to some areas up north, nearly 12 percent of Boston's bridges are considered structurally deficient, while 55 percent are functionally obsolete.
It should be noted that newer bridges aren't included in this analysis, as there is the presumption that they are neither structurally deficient or functionally obsolete. However, this could overlook engineering or construction problems that may compromise the structural integrity of a bridge.
Most bridges are only designed to last for about 50 years. Transportation for America reports 1 in 9 bridges are structurally deficient as the average age of our bridges nationally nears 50 years.
In cases where structural engineering or maintenance issues cause traffic crashes with injuries, there may be several entities that could face liability. Our experienced Fort Myers injury lawyers are available to help answer your questions.
Call Associates and Bruce L. Scheiner, Attorneys for the Injured, at 1-800-646-1210.
Additional Resources:
How many structurally deficient bridges are in your county? Feb. 22, 2017, By Denise Lu, The Washington Post
More Blog Entries:
Bus Accident Injury Lawsuit Settled for $850k, Feb. 24, 2017, Fort Myers Car Accident Lawyer Blog