City drivers are being reminded of the return in seasonal traffic after a spate of serious intersection collisions in Lee County.
NBC2 reported a 7-car accident in Fort Myers shut down U.S. 4/Cleveland Avenue near Hanson Street. One vehicle ended up on its side. Four people were taken to the hospital with serious injuries. A Lehigh Acres intersection collision killed a 30-year-old man who was westbound on SR 82 when authorities say a 43-year-old woman pulled out in front of him in a minivan.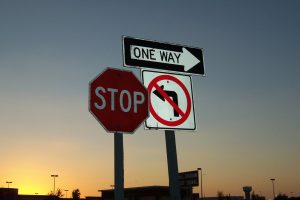 Holiday traffic will merge with winter tourist season in Southwest Florida. Put succinctly: Current traffic conditions are as good as they are going to get for the next six months.
Intersection Collision Risks in Southwest Florida 
We've written recently about the increased risk of traffic accidents in SWFL, as seasonal traffic returns, as well as night-driving collisions and the return of early darkness. Intersections are the most likely urban location for traffic collisions. Common intersection risks include:
Distracted driving: While the risks of distracted drivers are ever-present on our roads, intersections are less forgiving. Negotiating these natural points of traffic conflict includes watching for cyclists, pedestrians, and other hazards. Traffic closeness reduces reaction times.
Rear-end collisions: A consequence of Southwest Florida traffic congestion is that intersections are often backed up far enough to surprise approaching motorists still cruising at traffic speed. These rear-end collisions are often quite serious and involve multiple vehicles as a car is shoved forward into stopped traffic. Many fatal trucking collisions occur in this manner. Trucks traveling at higher speed take longer to stop and strike with far greater force.
Red-Light runners: The Insurance Institute for Highway Safety reports red-light runners kill more than 800 motorists a year and injured 137,000. More than half of victims are bicyclists or pedestrians.
Rollover collisions: We see a significant number of rollover accidents at intersections (including the recent Cleveland Avenue accident we mention above). The popularity of SUVs and pickup trucks make these types of accidents more likely. These vehicles have a higher center of gravity and tip over surprisingly easy. These most often occur at intersections when a vehicle "trips" over a curb while making a u-turn at higher speed or while taking evasive action.
Secondary collisions: Drivers who take abrupt evasive action (for example, to keep from slamming into the back of stopped traffic), are more likely to be involved in head-on or broadside collisions. They may also be more prone to rollover or to striking bicyclists, pedestrians or storefronts.
Head-on/broadside collisions: Collisions are a matter of physics. Whenever two or more vehicles collide while traveling in different directions, the increased force of impact is more likely to result in serious or fatal injuries.
While we often think of accident avoidance as behavioral — don't drink and drive, avoid distraction, etc. — locational influences should never be ignored. By understanding the reasons why intersections are dangerous places, you will be better able to avoid being involved in an accident.
If you or a loved one is injured, call Associates and Bruce L. Scheiner, Attorneys for the Injured, at 1-800-646-1210.