Happy Thanksgiving from all of us at Associates and Bruce L. Scheiner, Attorneys for the Injured.
We have posted recently about reducing holiday risks, and the rising road risks that come with driving at night and the return of winter residents and seasonal traffic.
AAA reports gas prices are dropping sharply just in time for the busiest travel season of the year.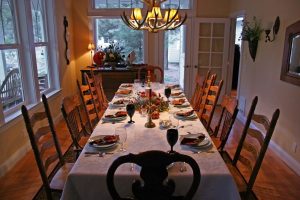 "Those heading out for a road trip, should find the lowest gas prices for the holiday in two years," said AAA spokesman Mark Jenkins.
In all, some 60 million travelers have plans for this weekend,  in what authorities expect to be the busiest holiday travel weekend in a dozen years.
A smart, prepared, traveler will always be a safer traveler.
USA Today reports Google Maps has even gone so far as to analyze Thanksgiving traffic data to determine the busiest times on the road, as well as the most congested areas of the country. You can consult an interactive Mapping Thanksgiving site Google has put together to find information in the state and metropolitan area where you live or travel.
The skies may be even busier than the roads.
When it comes to peak travel times, the verdict is no surprise, whether traveling by road or by air. The busiest time is Wednesday afternoon. Fridays and Sundays also see peak post-holiday traffic. Traveling earlier, or on Saturday offer the best alternatives. Those who can travel to or from their destination on Thanksgiving Day will also find less congestion.
Florida Travel Safety
Tampa Bay Times reports nearly 3 million Floridians are expected to travel this weekend. Motorists are urged to leave early and exercise patience. Both Orlando and Miami will be among the Top 10 nationwide travel destinations.
"With more travelers comes more congestion at airports and on the roads. AAA urges people to leave early, pack their patience and minimize distractions while behind the wheel," said Matt Nasworthy, AAA Florida public affairs director.
AAA expects to rescue nearly 360,000 stranded roadside motorists through the weekend. While return of winter weather signals to most northern motorists it's time to have their vehicle serviced, we urge you to have a routine inspection and maintenance done on your vehicle at least annually, and prior to any road trips.
Other travel safety tips include: 
Avoid Aggression: Whether at the wheel or when dealing with another motorist, short tempers and little patience can quickly increase your risks of being in a serious collision. Speeding, abrupt lane changes, failure to use signals, and tailgating are all common forms of driver aggression that increase the risks for everyone.
Distraction: If you are not distracted at the wheel, it's a pretty safe bet someone around you is distracted. Defensive driving always requires your full attention. Be aware of less commonly talked about distractions as well, including talking to passengers or outside distractions, such as large crowds or holiday decorations.
Drunk driving: Drunk drivers mar lives forever. The next six weeks will be the most dangerous time of the year. Please celebrate responsibly and never drink and drive.
A little emphasis on traffic safety can go a long way toward preventing a tragedy this year.
If you or a loved one is injured, call Associates and Bruce L. Scheiner, Attorneys for the Injured, at 1-800-646-1210.