Ghosts and goblins running loose in the streets next week herald an even scarier risk: The increased accident risks that will come with early darkness.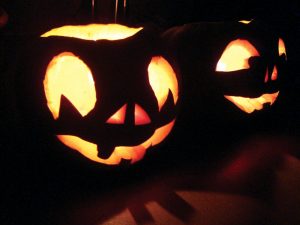 Trick or Treat always increases the risk of pedestrian accidents or other injuries involving children. According to the Safe Kids USA organization, children are more than twice as likely to be killed by a car while walking on Halloween night than at any other time of the year. Safe Kids reports only one-third of parents talk to their children each year about Halloween safety, even though three-quarters of parents report being worried about their child's safety.
Halloween Safety in SWFL
According to Safe Kids:
Children under 12 should always trick-or-treat with an adult.
Always use sidewalks and paths and walk facing traffic as far off the roadway as possible. Cross at marked crosswalks and street corners and use traffic signals.
Parents must also consider safety when it comes to a child's costume. Does it obstruct vision or make walking clumsy? Is it visible after dark?
Drivers must also do their part. Be especially alert in residential neighborhoods. Know when trick or treat is occurring in your area, and ideally just avoid driving during those few hours. Halloween is a time when motorists should expect excited children to potentially forget themselves and dart into the street and a motorist will not necessarily be absolved of criminal or civil liability if such incidents result in a collision.
The Lee County Sheriff's Office urges parents to carry flashlights, keep children together and to try to remain in well-lit areas. Children should also be reminded never to enter a stranger's home or to accept rides from strangers.
"The streets will be filled with excited children lugging bags and pillowcases filled with candy and other treats," Lee County Sheriff Carmine Marceno posted to Facebook. "It is a time when children are susceptible to harm and injury."
Early Darkness Brings More Road Risks to SWFL
Early darkness will also increase the risks of all types of traffic collisions, but particularly those involving bicyclists or pedestrians, as Daylight Savings Time ends on Sunday Nov. 4. When the clocks go back an hour, most of us will begin dealing with darkness during our evening commute, beginning in the late afternoon.
Florida is already the most dangerous state in the nation for pedestrian accidents. In fact, the Fort Myers-Cape Coral area has been named the most dangerous location in the nation for pedestrian accidents by Road Safe America. 
A total of 115 people were killed on Lee County roads last year. The News-Press reported it was the first time in more than a decade that Lee County saw more than 100 traffic deaths in back-to-back years. Of the 115 deaths last year, 23 involved bicyclists or pedestrians.
The National Safety Council provides a number of tips for driving after dark, as motorists readjust to reduced visibility.
Aim your headlights correctly, and make sure they're clean
Dim your dashboard
Look away from oncoming lights
If you wear glasses, make sure they're anti-reflective
Clean the windshield to eliminate streaks
Slow down to compensate for limited visibility and reduced stopping time
Drivers should also have an annual eye exam and be aware of the increased risk of fatigued driving that comes with early darkness. The most dangerous time will be evening rush hour, typically 4 to 7 p.m. weekdays. Take your time and exercise patience. Avoid abrupt lane changes and distract driving.
The risks are real. A little extra reminder and a little extra vigilance really can prevent a tragedy.
If you or a loved one is injured, call Associates and Bruce L. Scheiner, Attorneys for the Injured, at 1-800-646-1210.