To anyone looking on, it may have seemed like some kind of odd drug epidemic had swept South Florida. Dozens or even hundreds of people, wandering seemingly aimlessly around local parks, public libraries and college campuses.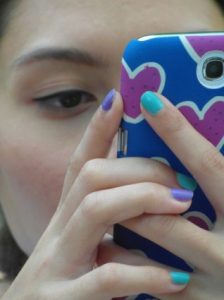 Cape Coral Police Officer Ray Schilke first got wind of the phenomenon when he got a call of a suspicious person. The man was driving slowly through the park. "He looks like he's watching people," the caller told dispatch.
"That's when things got a little bit hairy," Schilke said in a now popular video. "He was playing Pokemon Go, and he was like 25-years-old." 
Schilke knew exactly what the man was talking about because, as it turns out, his own wife is addicted to it. He found her one evening in the garage, trying to "catch" one of the anime creatures. His message, published by The News-Press, did, however, end with a serious note: A warning for game players to be mindful of their surroundings, watchful of where they are going and to avoid using the app while driving.
In fact, Schilke's not the only authority to issue this warning. Both the game developers and numerous police departments nationwide are warning users to "keep your heads up" when engaging the "augmented reality" game, which is a spin-off of a popular 1990s Japanese animation franchise. Five days after its release, as many people were using the app as were using social media powerhouse Twitter.
But the problem with the game is that situational awareness is lacking. Users may wander into areas where they are not allowed – such as someone else's private property – or into some other precarious situation. The Naples Zoo recently announced a warning to Pokemon Go users to stay out of restricted areas of the zoo while on the app.
"Even if they don't get injured by an animal," the representative said, they could be escorted out of the zoo if they are in a restricted area.
The app does use GPS to try to help avoid users walking into traffic, but there have been other problems. That's because the geolocation feature of the app allows those with perhaps bad intentions to stake out a spot where unsuspecting victims may come wandering by. Several users have reported being robbed while using the feature. Others have reported trip-and-falls while they were glued to their phones. And there have been a few reported instances of drivers using the app.
Could the app-maker be held liable for any of this?
While it's not entirely out of the question in every case, there are a few things any personal injury lawyer would consider before taking on such a case. With respect to the maker of the app, it's worth noting that there is a waiver of liability to which users agree before downloading the app. It's part of the "terms of service." Hardly anyone ever reads that, but it may make it difficult to succeed in a negligence lawsuit. Plus, there is also an arbitration agreement buried in those terms of service as well. That means even if an injury wasn't covered under the waiver, the plaintiff would likely have to arbitrate the claim, rather than be allowed to pursue it in court. Arbitration agreements can be overcome in some cases, but it will depend on the individual circumstances.
Further, other third-parties that could be negligent for certain hazards (i.e., a city for a sidewalk trip-and-fall or a business owner for negligent security) would have grounds to argue the gamer was distracted and therefore was engaging in contributory negligence. That is, because the gamer wasn't paying attention, he or she contributed to causing the injury. In Florida, contributory negligence is not a bar to recovery in personal injury lawsuits, but it could lessen the likelihood that it will be worth pursuing.
So the best advice: Play the game safely by being cognizant of your surroundings. If you do suffer a personal injury, an attorney can help you determine whether you may have grounds for any case.
Call Associates and Bruce L. Scheiner, Attorneys for the Injured, at 1-800-646-1210.
Additional Resources:
If Pokemon Go is wrong, then I don't want to be right, July 12, 2016, By Melissa Montoya, The News-Press
More Blog Entries:
Allen v. Montalvan – Florida Car Accident Settlements Involving Minors, June 30, 2016, Fort Myers Injury Lawyer Blog