An adult portable bed handle is defective, and has proven fatal in at least three instances. Yet since the Consumer Product Safety Commission announced the recall in May 2014, there has been a response rate of under 1 percent.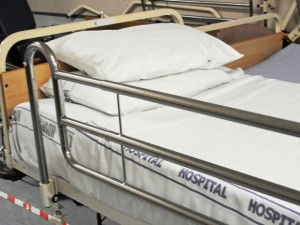 Approximately 113,000 of these devices were sold from 1994 through 2007. The purpose of the handles is to attach to bedsides in order to help people roll over, sit up or stand. The problem with these devices is that when they are attached to the side of an adult's bed without the use of safety retention straps, the handles can slide out of place, resulting in a dangerous gap between the side of the mattress and the handle of the bed. The result is a major risk of entrapment, strangulation or death.
Many product recalls unfortunately have a low response rate. However, given the severity of potential injuries and the possibility of death, the CPSC made the unusual move of re-announcing the recall.
Of the three women who died as a result of use of this product, one was disabled and two were elderly. All three of them were residing in group facilities (i.e., nursing homes and assisted living centers).
The handles, sold under the names, "Travel Handles," "Adjustable Bedside Assistant" and "Original Bedside Assistant," were sold by a company named Bed Handles Inc. in Missouri. The recall instructs consumers to contact the company in order to receive the safety retention straps for free. All use of the product should be suspended until that point.
It's worth noting this isn't the first time we've seen the safety of adult bed rails called into question by consumer product safety advocates.
In late 2012, the New York Times reported federal government data that revealed from 2003 through mid-2012, there were 150 adults (mostly older) who died as a result of becoming trapped in bed rails. In that same time frame, there were 36,000 adults (again, mostly older) who were treated in hospital emergency rooms as a result of bed rail injuries. That breaks down to about 4,000 each year. So this is not a minor issue or one that relates solely to this single defective product.
Those who have studied this issue say these incidents are avoidable. A big part of the reason there were problems for a long time was because there was no singular safety standard, due to the dispute about whether these were "consumer products," governed by the CPSC or whether they were "medical devices," governed by the Food & Drug Administration.
Still, there have been warnings about the devices dating back to at least 1995. Although they are much less prevalent in nursing homes and assisted living centers than they used to be, they are still problematic.
Our nursing home negligence lawyers in Fort Myers know in some of these cases people who were injured or survivors of those who died may have recourse not just with the product manufacturer, but also with the nursing home or care facility. Particularly if a product was recalled and the devices were still in use. Also, a recall does not necessarily absolve a manufacturer of liability, though it will depend on the circumstances.
As the elderly population increases, we are going to see a growing use of products marketed to and for this vulnerable group. When those products are unsafe, it's important to take action – not only to compensate victims, but also to ensure no one else suffers harm.
Call Associates and Bruce L. Scheiner, Attorneys for the Injured, at 1-800-646-1210.
Additional Resources:
Bed Handles Inc. Reannounces Recall of Adult Portable Bed Handles Due to Serious Entrapment and Strangulation Hazards; Less than 1 percent Response Rate to Recall, Sept. 17, 2015, U.S. Consumer Product Safety Commission
More Blog Entries:
Bradley v. Ameristep, Inc. – Defective Product Lawsuit May Proceed, Sept. 2, 2015, Fort Myers Dangerous Product Lawyer Blog