Another construction accident in a highway work zone in South Florida has claimed the life of a 26-year-old worker.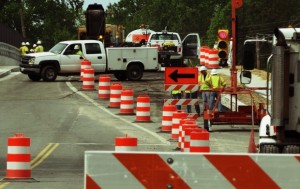 The accident happened on the Veteran's Expressway in Tampa, late one Wednesday night, as a dump truck, driven by a 20-year-old with an 18-year-old in the passenger seat, backed south into the northbound lane. Victim was standing at the rear of the truck as it moved in reverse. He was pulled underneath the vehicle, and was pronounced dead at the scene.
Decedent worked for a subcontractor on the $380 million construction project, and the driver of the dump truck worked for another subcontractor on the job. Most of the work is being carried out during overnight hours, which is a particularly dangerous time for workers at these sites, especially if there isn't proper lighting or if others working the site aren't properly trained.
Recently, the Associated Press reported a potential solution that may considerably reduce these kinds of crashes. Already on many construction sites, you might find vehicles outfitted with a device known as a "truck-mounted attenuator." This feature protects roving roadway construction crews – those who paint the lines, inspect the bridges or install signals – from being struck by oncoming traffic by creating a "crash barrier."
The problem with these vehicles historically is the drivers of those vehicles are directly placed in harm's way. As one construction company leader put it, "They are literally waiting to be struck."
Now, under a Florida Department of Transportation pilot program, two "driverless" crash trucks are going to make their way onto highway construction sites in this state by the end of the year. The Pennsylvania-based company that created these vehicles is hoping that if they prove effective here in the Sunshine State, their use will expand far beyond our borders.
Truck-mounted attenuators have been available to construction companies for the last three decades, and there has been ample evidence of their effectiveness. In fact, earlier this year the Journal of the Transportation Research Board published a study that showed work zone deaths and injuries resulting from rear-end crashes was slashed by nearly half when these devices were used.
But again, the problem lies with the risk to the driver of that truck, who follows the workers and is at risk the entire time. The autonomous truck creates a solution, and one in which many companies have expressed interest. Not only could such a device reduce construction injuries and fatalities, but it could also help reduce labor costs.
The concept of self-driving vehicles isn't entirely new, of course. Google and traditional automakers have been working on this for some time now. Recently, Daimler Trucks North America LLC started work on a self-driving tractor-trailer. It's going to be years before that vehicle hits the market, but it's believed such technology will become commonplace in the transportation world.
It makes sense then that we would see a push for such vehicles in the construction world, especially within a segment of construction that has reported an extremely high number of deaths.
Florida ranks No. 2 for having the highest number of construction work zone deaths nationally, according to the Bureau of Labor Statistics.
These unmanned "crash truck" has been developed with the help of a Florida-based company that supplies driverless vehicles to the U.S. military.
The terms of the deal that would get these vehicles onto construction sites is still being hammered out, but it's expected they will be commonplace at Florida construction sites within the next year.
Call Associates and Bruce L. Scheiner, Attorneys for the Injured, at 1-800-646-1210.
Additional Resources:
Driverless truck meant to improve safety in work zones, Aug. 24, 2015, By Michael Rubinkam, St. Louis Post-Dispatch
More Blog Entries:
Stryker Settles Faulty Hip Replacement Lawsuits for $1B, Nov. 30, 2015, Fort Myers Construction Accident Attorney Blog