A Florida jet ski accident claimed the life of a Lehigh Acres man in Alva, according to a report by Fort Myers news station NBC-2.
An investigation by the Florida Fish & Wildlife Conservation Commission (FWC) revealed the fatal accident was alcohol-related. The report indicated the 53-year-old man was riding on the personal watercraft in the Caloosahatchee River when the vessel struck a dock, ejecting him. Neighbors indicated they heard a commotion and came out to find a number of people working to pull the man out of the water. Despite spending a half hour performing CPR on him, he died. His exact cause of death is u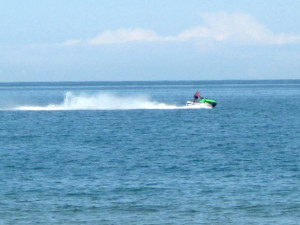 nclear, but initial reports appear to indicate blunt force head trauma.
The FWC reports that in 2014, there were 104 personal watercraft accidents in Florida, with 98 resulting in injuries and causing five deaths. There are a total of 111,441 registered personal watercraft vessels in the state last year. Those figures indicate a slight decrease in personal watercraft accidents in the state from the previous year, when there were 108,113 registered vessels, 137 accidents, 125 injuries and eight deaths.
Lee County ranked 14th in the state for the most personal watercraft injuries last year, with two accidents and four injuries. Charlotte County, meanwhile, ranked 11th with three accidents and three injuries. There are 4,577 registered personal watercraft in Lee County and 1,467 in Charlotte. In Collier, where there are 3,208 registered personal watercraft vessels, there were no accidents in 2014. However, that county did report two accidents in 2013 resulting in three injuries.
The counties with the highest number of accidents, injuries and deaths were:
Pinellas – 19 accidents, 11 injuries
Monroe – 17 accidents, 1 death, 15 injuries
Palm Beach – 12 accidents, 1 death, 9 injuries
Miami-Dade – 11 accidents, 14 injuries
Okaloosa – 7 accidents, 6 injuries
Bay – 4 accidents, 1 death, 3 injuries
The majority of these accidents occurred in bays and sounds. Others occurred in oceans/gulfs, inlets/passes, rivers/creeks, lakes/ponds and canals. In most cases, the personal watercraft was in "cruising mode" at the time of the accident. Other actions cited at the time of accident included changing direction, changing speed, drifting and wake jumping.
Of the 104 accidents reported, the primary types of accidents were:
Collision with vessel (56)
Collision with fixed object (15)
Fall on personal watercraft )13)
Fall overboard (10)
Struck by boat (4)
Capsizing (2)
Skier fall (2)
Flooding (1)
Explosion (1)
In 40 percent of the cases, the operator was between the ages of 22 and 35. The age groups of 17 to 21 and 36 to 50 each represented 21 percent of operators, respectively. Forty percent of operators involved in these accidents had less than 10 hours of experience, and 58 percent had no previous boater education.
Of those who were injured, the primary injuries included:
Broken bones
Contusions
Lacerations
Internal injuries
Head injuries
Back injuries
Issues such as operator inexperience, carelessness, excessive speed and operator inattention were cited as top causes of injurious and fatal accidents.
Our Fort Myers jet ski accident attorneys know surviving victims often face a long journey to recovery, and may suffer lasting disabilities or scars.
These watercraft are supposed to be fun, but that can change in a split second. In order to recover damages, victims and/or surviving loved ones need to contact an experienced personal injury lawyer as soon as possible.
Call Associates and Bruce L. Scheiner, Attorneys for the Injured, at 1-800-646-1210.
Additional Resources:
Witnesses describe trying to save jet-ski accident victim, Sept. 21, 2015, By Jaclyn Bevis, NBC-2
More Blog Entries:
Bicycle Injuries Doubled From 1998 to 2013, Analysis Shows, Sept. 26, 2015, Fort Myers Injury Attorney Blog