A recent tragedy in Southwest Florida highlights the risk of backover and driveway accidents.
The Fort Myers News-Press reported the death of a 5-year-old girl, who was struck and killed in a driveway on Cypress Lake Drive. The Florida Highway Patrol reports the girl was struck by a Jeep Wranger pulling into the driveway around another parked vehicle that was obstructing the driver's view.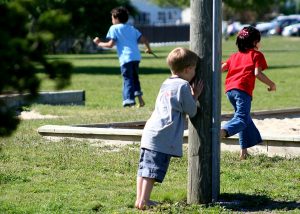 Injuries to children in driveways most commonly result from backover accidents. Large holiday gatherings are the unfortunate scene of most of these tragedies. The prevalence of large gatherings of family and friends, the start of colder weather up north, and the popularity of today's large pickup trucks and SUVs all play a role.
Backover injury risks peak each year during the holiday season, both in private driveways and in crowded parking lots at big-box stores and shopping malls. After a 10-year debate, the National Highway Traffic Safety Administration recently issued a rule requiring all new vehicles to have backup cameras to reduce the risks created by rear blind spots.
Backover Driveway Injury Risks
Parents should teach their children never to play in a driveway or at the rear of a motor vehicle. However, such safety advice only goes so far, particularly amid the excitement of friends and relatives visiting for the holiday season.
Thus, most of the responsibility for preventing such tragedies rests in the hands of drivers and property owners.
Have a plan for parking. Keep playing kids separated from parked cars.
Always check around your vehicle before moving. Verify kids are safely away from your travel lane.
Celebrate responsibly.
Never park in a way that obstructs the view of the street for incoming or departing guests.
Parking lot injury risks
Children and elderly adults are also at highest risk of being struck in a busy Southwest Florida parking lot this holiday season.
Always hold a child's hand when walking in a parking lot.
Use marked pedestrian walkways whenever possible.
Never walk directly to the rear of a row of parked cars.
Park in a well-lit area.
Motorists and property owners may both face liability in the event of a backover accident or other injury involving a pedestrian. Even a low-speed collision typically results in very serious or fatal injuries. In an accident on private property, both the driver's auto liability policy and the homeowner's insurance policy may be liable for paying damages. When injury occurs on commercial property, liable parties may include the at-fault driver, the business owner, the property owner and the property management company.
These are complex claims best handled by a personal injury law firm in Fort Myers or Cape Coral with extensive experience handling premises liability claims on both commercial and private property.
If you or a loved one is injured, call Associates and Bruce L. Scheiner, Attorneys for the Injured, at 1-800-646-1210.