Some people go to the beach fearing only the small chance they'll encounter a shark close to shore. In fact, there are a number of other more serious hazards on land.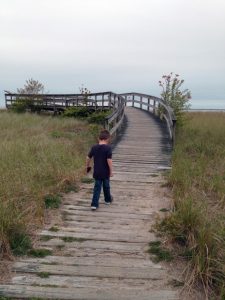 That's what one man found while visiting Myrtle Beach, SC. According to a local news report, the man was staying at a local hotel in August 2014. As he leaned on a railing of a narrow boardwalk leading onto the sand, the railing gave out. The man fell off the walkway and is now suing the City of Myrtle Beach, the entity that owns and maintains the pathways that lead to the beach.
In his premises liability lawsuit, the man alleges the boardwalk was not properly built in the first place, and thereafter was not properly maintained. However, the city is relying on the state's recreational use statute. Florida has one too. Basically, if a landowner allows their property to be used free of charge for public recreation, the rights of those people to sue the entity or company for negligence are significantly undercut. In fact, the only way to prevail is to assert gross negligence. In this case, it would mean gross negligence in the way the boardwalk was designed, constructed or kept. Plaintiff's attorneys say they believe their case is strong. 
Although most premises liability lawsuits that make it past the discovery phase are settled before trial, mediation in this case reportedly proved unsuccessful. Although cities and other local government agencies may have additional protections, such as sovereign immunity, that can be more challenging than a straightforward case against a business owner, these entities are also more likely to be cautious when it comes to going to trial. For plaintiffs who have proven they have a case, local governments often don't want the public to see them as wasteful in spending taxpayer time and money on a trial – especially if there is a fair chance they won't win. That's why they are often more likely to settle, even on somewhat weaker claims.
Here in Florida, we have had our fair share of boardwalk slip-and-fall claims. Some examples of slip and trip hazards on boardwalks include:
Failure to properly maintain timber boardwalks, which can rot and sag over time, particularly if they are close to the ocean.
Failure to properly construct timber boardwalks, which need to be able to support a certain amount of weight when they are leaned on.
Failure to warn of potential hazards. If a boardwalk is in poor shape or poses some risk that visitors aren't expecting, those responsible for maintaining the structure should make sure they have adequate warning.
Failure to trim overgrown plants that become a hazard to those trying to pass.
It should be noted that timber planks, as opposed to other types of materials, are not as durable. That means even when they are pressure treated to resist water, they are going to erode faster than, say, a concrete sidewalk. This is something property owners can anticipate and plan for.
If you are injured at or near a Southwest Florida beach or nearby establishment, call us to learn more about how we can help you recover damages.
Call Associates and Bruce L. Scheiner, Attorneys for the Injured, at 1-800-646-1210.
Additional Resources:
Man who fell off beach walkover goes to trial with Myrtle Beach, Dec. 8, 2016, Staff Report, MyrtleBeachOnline.com
More Blog Entries:
Suarez v. W.M. Barr & Co. – Exploding Paint Remover Injury Lawsuit to Proceed, Dec. 18, 2016, Fort Myers Injury Attorney Blog