A boating accident lawsuit stemming from a crash resulting in the amputation of a 9-year-old girl's thumb is likely to settle for $1 million, according to local news sources from Myrtle Beach.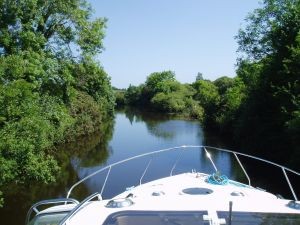 According to MyrtleBeachOnline.com, the defendant in the case of Georgino v. Murrells Inlet Epiphany Inc. is the tourism leader of the popular South Carolina city. He also works as the managing partner of a resort management company there. The lawsuit was filed in federal South Carolina District Court.
The accident occurred in late May 2014. According to the girl's mother, who is the plaintiff on her behalf, the child's hand was resting on the side of her father's boat. It was in the process of being moored and rafted alongside a number of other vessels situated in an inlet. The family was attending an event for wounded veterans.
Suddenly, according to the complaint, the wake caused by defendant's yacht caused the girl's father's boat to slam into another vessel. The lawsuit alleges the yacht was being operated at a high rate of speed, very near to boats that were moored and rafted.
Numerous people from those boats shouted at the operator to slow down, but those calls were not heeded. The speed and size of this vessel, combined with its proximity to other vessels, made it an enormous threat. It caused a huge wake that caused a number of other boats to "rock violently." Then, instead of stopping or even slowing down, the lawsuit alleges, the boat sped away.
Plaintiff asserts her daughter's hand was caught between two boats and was severely mangled. It could not be repaired, and the right thumb eventually had to be amputated.
Although some may think that a $1 million settlement seems excessive for a finger, consider that it is on the right hand and think for a moment about the limitations a right-handed person would suffer without a thumb. There will be jobs for which she will never be eligible due to this accident. Learning to write or even type will likely be a challenge. It will mean a lifetime of adjustment.
Defendants in the case won't admit to liability, but said they plan to settle the case in hopes of avoiding a trial. More than half of the money will be placed in an annuity for the child, who will receive annual payments until she is 23-years-old.
This case highlights the way both state and federal laws hold boaters accountable for their wake. Because of the damage excessive wake can cause, the state is careful to assess each waterway and designate certain regulatory zones with speed restrictions. These range from "Idle Speed, No Wake" zones to maximum speed zones in controlled areas, usually up to 35 mph.
Even for boaters who aren't operating in a slow-wake or no-wake zone, it's imperative to slow down when passing a smaller boat or a marina or shoreline.
Operators can be held liable for damage caused by excessive wake. Our experienced Fort Myers boating accident lawyers can help you determine your legal rights.
Call Associates and Bruce L. Scheiner, Attorneys for the Injured, at 1-800-646-1210.
Additional Resources:
Records: Myrtle Beach Tourism Leader to Settle Lawsuit With Girl Injured in Boating Accident for $1 Million, Aug. 25, 2015, MyrtleBeachOnline.com
Fatal Florida Boating Accident Under Investigation, June 23, 2015, Fort Myers Boat Accident Lawyer Blog