Construction workers are in a lot of danger. Fall accidents are among the most common risks, according to the Occupational Safety and Health Administration (OHSA).
As a matter of fact, fall accidents are the number one cause of death in the construction industry. There were close to 300 fatal fall accidents in the U.S. in 2010. There were less than 775 fatal accidents in the industry altogether. The most important thing to remember is that these accidents are completely preventable.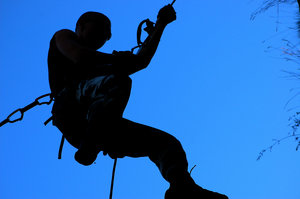 Our Cape Coral construction accident lawyers understand that there are three simple ways that these accidents can be prevented — Plan. Provide. Train.
Officials with OSHA have dedicated significant resources to help raise awareness among employees and employers about the risks that are associated with working on roofs, scaffolds and ladders. In addition to a website, employers are also provided with posters and informational resources to display on the work site. I number of these resources target workers who don't speak English very well.
Tips on Preventing Fall Accidents on Construction Sites:
-PLAN. You need to look at all aspects of the job to make sure you're doing it as safely as possible. When working from heights, make sure that all of the proper safety equipment is in place. Whenever you're providing an estimate for a job, you want to make sure that the costs of these safety measures are included.
-PROVIDE. You always want to have the right equipment, and your employer should provide it for you. If you're working six feet or more above the lower level, you're at serious risks for injury and even death in the event of a fall. You should have the proper fall protection. Remember that each piece of equipment has its place on the job site. Don't try to skimp out. Equipment is meant for specific tasks.
-TRAIN. Each worker is required to be properly and efficiently trained in the jobs they're performing. You can help to keep your workers safe by making sure that they understand their duties and how to use the fall protection equipment provided to them. Employers must train workers in hazard recognition and in the care and safe use of ladders, scaffolds, fall protection systems, and other equipment they're required to use.
It's time for us all to put to rest the attitude that "accidents happen" and take action to make sure deadly fall accidents don't happen.
As a worker in the U.S., you have a right to all of these preparations. You're to be properly trained in the jobs you'll be executing and you're required to have the proper safety equipment to make sure that these jobs can be executed safely. If you don't feel you're getting what is required, speak up. You have a right to do that, too. Just make sure safety is your number one priority.

Associates and Bruce L. Scheiner, Attorneys for the Injured, have spent four decades fighting for the rights of injured employees throughout South Florida. Call for a free and confidential consultation to discuss your rights. 1-800-283-2900.
More Blog Entries:
Giffords case illustrates complexity of Traumatic Brain Injury, Florida Injury Lawyer Blog, January 17, 2013
New Release Illustrates Dangerous Jobs and Common Work-Related Accidents in Fort Myers and Elsewhere, Florida Injury Lawyer Blog, September 5, 2012