Dangerous toys are a problem year-round, but heightened concern is warranted during the holiday gift-giving season.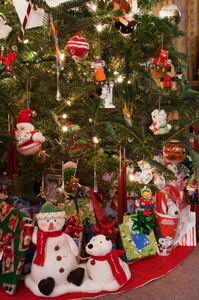 In recent years, both federal authorities and even toymakers themselves have initiated higher standards, meaning the majority of toys on the market are safer than they've been in the past. Still, the U.S. Consumer Product Safety Commission reports toy-related injuries resulted in 200,000 hospitalizations last year.
The journal Clinical Pediatrics indicates the toy-related injury rate has spiked 40 percent between 1990 and 2011. According to their research, 3 million children were injured by toys during that time, which means there was a child getting hurt every 3 seconds. More than 50 percent of those were children under the age of 6.

Our Cape Coral injury lawyers know when you buy a toy from a reputable retail store for your child or a loved one, you expect that toy will be safe. It's supposed to be by law, and if there are certain dangers associated with that product, the company has a duty to warn.
The CPSC is teaming up with counterparts in both Canada and Mexico to form a blockade of sorts against dangerous toys coming from other countries. Additionally, the CPSC noted there are approximately $800 million worth of games, children's vehicles and toys imported to the U.S. directly from Mexico and Canada, and there will be increased efforts to bolster safety standards and verify a product's fitness before it hits shelves.
The agency also works with U.S. Customers and Border Protection to keep questionable products from entering the country. Since 2008, this partnership has resulted in preventing some 11 million dangerous toys that fail to meet U.S. standards from being sold here.
Still, dangerous toys inevitably slip under the radar, and children are the most vulnerable consumers. In fiscal year 2014, the CPSC reported 30 toy recalls, involving one for high levels of lead. This is quite low in comparison to previous years. In 2008, the agency reported nearly 175 recalls, which included 19 for excessive lead levels.
Most of the recalls in recent years have been regarding ingestion hazards. Small parts that may be a particular danger to toddlers and babies, and the risk of choking is always a serious concern.
Last year, there were nine child toy-related deaths reported. Of those, six involved choking or asphyxiation. The remainder occurred while children were playing with riding toys. There was one incident in which a child on a scooter was struck by a truck.
The agency offers the following toy-related safety tips for consumers to bear in mind this holiday:
–Use of any toy containing magnets should be carefully supervised and the product kept far out of reach of small children.
–Balloons are a common source of choking or suffocation in small children. Deflated and torn balloons should be thrown away immediately.
–Toys with small parts or balls should be kept away from babies, toddlers and smaller children.
–Understand that riding toys like scooters, bicycles, inline skates and skateboards have the potential to go fast. Children should always wear helmets, and parents need to make sure this and all other safety gear is properly sized.
Call Associates and Bruce L. Scheiner, Attorneys for the Injured, at 1-800-646-1210.
Additional Resources:
Working Across Borders to Protect our Children; North American Collaboration Expands Toy Safety Efforts This Holiday Shopping Season, Nov. 20, 2014, Press Release, U.S. Consumer Product Safety Commission
More Blog Entries:
Highway Guardrail Dangers Exposed at Trial, Nov. 24, 2014, Cape Coral Injury Lawyer Blog