Our car accident attorneys in Fort Myers and Cape Coral know elderly driving accidents can be caused by a number of factors, including deteriorating eyesight, muscle stiffness and slowed reaction, prescription drug use, and declining mental acuity.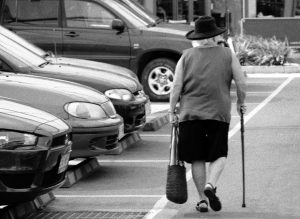 These risk factors counter a number of safe driving habits routinely adopted by older drivers, including obeying the speed limit, wearing seat belts and often driving during daylight off-peak hours.
Unfortunately, the impact of the COVID quarantine means we do not have the same opportunities to check on our older loved ones. They may also be cut off from social functions that would otherwise have kept them more active and engaged. While many businesses, including grocery stores, have adopted senior hours to help keep older populations safer, these are not enough to counteract the negative impact of months of isolation.
Causes of Senior Driving Accidents in Southwest Florida
The risks in Florida are real, where more senior drivers are on the road than anywhere else in America.
The Centers for Disease Control and Prevention reports nearly 7,700 older adults (aged 65+) are killed in motor vehicle crashes each year, and more than 257,000 were treated in emergency departments for motor vehicle crash injuries. Meanwhile, the Insurance Institute for Highway Safety reports the number of licensed drivers 70 and older increased 66 percent in the last 20 years. The proportion of the 70-and-older population with licenses went from 73 percent in 1997 to 83 percent in 2018.
Some states do a better job of monitoring an older driver's ability to safely operate a motor vehicle. However, in Florida, drivers younger than 80 are granted two eight-year license renewals before an eye test is required. Drivers over age 80 must renew their license in person every six years, which includes passing a vision exam.
These are complex cases. Whether you are an older driver or are involved in a collision with an older driver, an experienced injury lawyer must carefully review the issue of causation. Common causes or contributing factors include:
Muscle and joint issues: Arthritis impacts a majority of drivers over age 70. Muscle fatigue and other motor-skill issues commonly impact driving.
Medical conditions: Many older adults are facing serious medical issues, including cancer, and aggressive treatment regiments that may reduce their driving ability.
Prescription drugs: Some drugs negatively impact driving ability by themselves, while other drugs may interact negatively with existing prescriptions.
Medical complications: Older adults are more easily injured and take longer to recover. As a result, drivers over age 70 are significantly more likely to be seriously injured or killed in an accident.
Keeping Senior Drivers Safer on the Road
A number of online resources are aimed at helping seniors or loved ones when it comes to safe driving, including AAA's self assessment of driving ability. 
The National Highway Traffic Safety Administration offers a host of online tools, including information on how to have a talk if you are concerned about a loved one's safety at the wheel. Warning signs include accidents or near misses, significant changes in health or medication regiments, confusion or getting lost, speeding or driving too slowly, or receiving citations for traffic infractions.
If you or a loved one is injured, call Associates and Bruce L. Scheiner, Attorneys for the Injured, at 1-800-646-1210.