Our New Year's look, Staying Safe on Florida Roads, has examined many of the ways drivers are distracted inside the vehicle, including cell phones and other electronic devices, eating and drinking, and engaging with passengers.
But an often overlooked contributing factor in collision causation is distractions and obstructions outside the vehicle. These can range from road construction, to previous collisions, to the actions of other motorists, to special events, and people carrying sign boards and intersection advertising.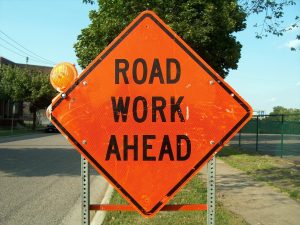 Our car accident attorneys in Fort Myers and Cape Coral know such distraction is a contributing factor in a substantial number of serious and fatal traffic collisions each year. In some cases, such distractions may be reported by initial investigators, but in many other cases, these contributing causes go unreported.
External Distractions in Accident Causation
Whether third-party liability attaches is something that will have to be reviewed on a case-by-case basis. But in some cases, an  experienced Fort Myers car accident lawyer can pursue a case against a third party when it is believed their negligence was at least partially responsible for causing a collision.
This is just one more reason why seeking the advice of an experienced law firm is vital when it comes to seeking justice after a serious or fatal crash. Thoroughly investigating all causes of a collision is a critical part of accepting the responsibility of representing victims of serious and fatal motor vehicle collisions. Identifying all responsible parties, and their insurance carriers, as well as properly determining the full extent of damages, is often determinative when it comes to achieving a successful outcome.
Some of the common scenarios for these types of cases include:
Road construction: Construction projects are among the most distracting obstacles on the road. Often conducted by independent contractors in conjunction with state and local authorities, these can be among the most complex claims a personal injury law firm can handle.
Advertising: Today's e-commerce world offers more advertising options than ever, and still we see a wide variety of roadside distractions, from balloons and flags to employees dressed in costume carrying large signs. In some areas, permits are required, in other areas, there is little enforcement. Complicating matters is the fact that people hired for these positions are often day laborers.
Previous accidents: Injury claims can also be complicated when a collision occurs as a result of a previous accident. Whether or not law enforcement was on the scene, or whether a collision was caused by distraction, or the result of unknowingly driving into a previous collision, will all be factors in determining how a claim proceeds.
Obstructions: From overgrowth of vegetation, to vehicles and trucks parked at roadside and near intersections or parking lot entrances, visual obstructions are a common contributing cause. While each case must be carefully examined, responsible parties often can and should be held accountable.
If you or a loved one is injured, call Associates and Bruce L. Scheiner, Attorneys for the Injured, at 1-800-646-1210.