As fall sports season gets underway, the National Highway Traffic Safety Administration is reminding motorists to "Drive Sober or Get Pulled Over."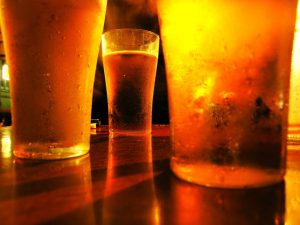 More than 11,000 motorists are killed each year in traffic collisions involving drunk drivers, accounting for nearly 40 percent of all motor vehicle fatalities. Almost half of all crashes involve a driver who has been drinking. Impaired drivers, speeders, and distracted drivers now account for the vast majority of serious and fatal accidents on the roads.
The nation's leading road safety organization reports someone dies in a drunk driving collision every 45 minutes.
From Labor Day until the year-end holidays, road risks typically reach their annual peak. The Labor Day weekend and the start of football season coincide with increased patrol efforts by law enforcement, including DUI checkpoints and roving patrols dedicated to identifying and arresting impaired drivers. Our drunk driving injury lawyers have supported these efforts for decades as we continue to fight to eliminate the senseless tragedies caused by impaired motorists.
Last year's Labor Day weekend resulted in 530 deaths caused by drunk driving. At Associates and Bruce L. Scheiner, Attorneys for the Injured, decades of fighting for the rights of families have made us all too aware of the shattered lives behind such stark statistics. In today's age, where a safe ride home is just a smartphone app away, there is never a reason to get behind the wheel after consuming any amount of alcohol. We encourage you to celebrate responsibly, speak with your children about the risks, and do your part to make sure everyone arrives safe at home to their families.
Safe Hosts Make for Safe Roads
There is some indication that the coronavirus pandemic has increased the risks of impaired drivers on the road, as revelers opt to meet at private locations rather than bars or restaurants where alcohol consumption is more closely monitored. Please understand as a party host you are the first line of defense. Florida's dram shop laws may hold homeowners and party hosts responsible if an intoxicated guest causes a serious or fatal traffic collision, particularly if underage drinking is involved.
Our DUI accident lawyers offer the following tips if you are planning to host an event where alcohol will be served:
Restrict your celebration to a few hours. Long pregame or holiday festivities only heighten consumption and make intoxicated guests more likely.
Serve plenty of food and nonalcoholic beverages.
Make sure everyone has a plan to get home safely before serving alcohol to guests.
Never serve alcohol to underage or intoxicated individuals.
Always make sure several attendees are sober and available to provide a safe way home for anyone who needs it.
Stop serving alcohol well in advance of the end of your celebration.
Like most road risks, reducing the dangers of drunk drivers requires a proactive approach. Holding yourself personally accountable is the best way to avoid liability and discourage impaired driving in our local communities.
If you or a loved one is hurt, call Associates and Bruce L. Scheiner, Attorneys for the Injured, at 1-800-646-1210