Florida is the most lethal state in the nation for bicyclists, and South Florida is particularly perilous for those on two wheels.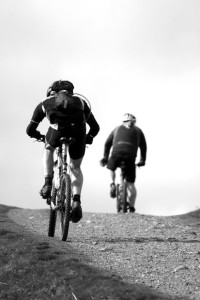 As The News-Press has reported, 2014 was an especially horrific year. There was a woman who spat on a cyclist after driving into him in Naples. Then there was the man who careened into a row of cyclists on Fort Myers Beach and then said, "I should have hit them harder." And in Cape Coral, a driver actually shot a cyclist who asked him to slow down.
As more cycling lanes have been added awareness of the issue has grown, some cyclists feel the hostile climate is slowly shifting. Nearly 18 percent in a recent poll said cycling in Lee is getting safer. That may be reflected in preliminary crash statistics for 2015.
Advocacy group BikeWalkLee says it is the first time in several years there hasn't been a sharp year-over-year increase in Lee County bike accidents. This is even though the total number of traffic accidents has gone up.
As of the end of December, state data shows there were 226 bicycle crashes in Lee County in 2015. That's about the same number as there were in 2014. Although of course we want to see this number drop, these figures are encouraging when you consider there are more bicyclists than there used to be. Plus, the number of bicycle fatalities did drop, from 9 in 2014 to 4 in 2015.
In Collier County, the number of bicycle crashes fell from 137 to 100. That is the lowest its been since 2011, when the population in the county was lower too.
Additionally, there have been fewer high-profile cases in which drivers seemingly plow into cyclists intentionally. Although there are still certainly a lot of drivers who don't believe cyclists should be on the roads, an increasing number understand they do have a right to be there.
Some cyclists report they receive fewer honks. Car drivers are also tending to give them more space. Florida law says drivers have to give cyclists at least a three-foot clearance. Two years ago, bikers say, that was not the norm. It's slowly getting better.
There was also extensive coverage of the $170 ticket a driver received for seriously injuring a bicyclist in Naples. That has spurred the introduction of legislation that would increase penalties for drivers who cause harm to pedestrians, cyclists and motorcyclists.
Throughout Lee County, which is 10th in the state for both pedestrian and bicycle accidents, troopers with the Florida Highway Patrol have been increasing their presence, hoping increased visibility will improve driver behavior. Those troopers, as well as Lee County Sheriff's deputies and Fort Myers Police officers have been using federal grants to conduct outreach to bicyclists and pedestrians. Cape Coral was recently awarded for its bicyclist initiatives with an award from the League of American Bicyclists.
Unfortunately, this has not done enough to curb the number of pedestrian accidents. State officials report cases of vehicles striking walkers has spiked in both Lee and Collier counties.
Plus, road design continues to be a serious problem. Florida has wide roads and fast speed limits, which makes it hazardous to bike or walk, especially at intersections. The most common scenario involves drivers turning right who fail to look for pedestrians or bicyclists coming the other direction.
Call Associates and Bruce L. Scheiner, Attorneys for the Injured, at 1-800-646-1210.
Additional Resources:
Is Lee, Collier becoming safer for cyclists? Jan. 4, 2016, By Janine Zeitlin, The News-Press
More Blog Entries:
Surviving Victims of Violent DUI Crash in Florida Settle for $1.35M, Jan. 30, 2016, Fort Myers Bike Crash Lawyer Blog