For the second time this year a child has been killed near a Lee County bus stop.
Monday's tragic death of an 8-year-old Cape Coral girl has rallied the entire community. She was struck by a truck while waiting with her twin brothers at the side of the road. A red pickup truck traveling toward the intersection struck her and then left the scene. An outpouring of community support and a GoFundMe page have raised more than $48,000 this week. Police have recovered the truck and identified a suspect as the investigation continues.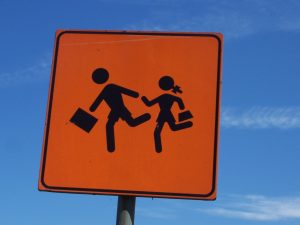 So far in 2019, a total of 28 people have died on Lee County roads, a record number, The News-Press reported. Nearly half of these deaths have victimized our most vulnerable road users, including the deaths of seven pedestrians, as well as four cyclists.
A 12-year-old girl was killed in January as she walked home after taking her younger sister to a school bus stop in an area without sidewalks. She was struck about 7 a.m. by a driver that fled the scene but later returned. We encourage the Lee County School District to continue to review its bus stops for safety, and to implement safer alternatives whenever possible.
Hit-And-Run Injuries in SWFL
When it comes to accident prevention, our injury lawyers in Cape Coral and Fort Myers agree with the sentiments of Jay Anderson, of "Stay Alive… Just Drive!"
"Controlling risk starts with obeying the traffic laws and continues by accepting responsibility for our own safety," Anderson told The News-Press. "I can't stress the fact enough that all these fatalities are 100 percent preventable and ultimately the result of nothing more than poor choices."
While fault is often clear in such cases, what is less certain is a victim's ability to collect damages. Bicyclists and pedestrians are far more likely to be struck by a driver who flees the scene. And Florida's mandatory insurance minimums require just $10,000 in Personal Injury Protection benefits, even if a driver is identified. One of the best sources of recovery may be a victim's own insurance policy if a victim has purchased uninsured motorist or underinsured motorist benefits, which are optional under Florida law.  As we wrote in our blog post last year, Uninsured/Underinsured Motorist Coverage a Vital Protection, such coverage can protect you as a bicyclist or pedestrian.
Lee County Bus Stop Safety
As parents, we do everything possible to keep our children safe. There is no indication either of these tragic victims did anything wrong. But the reality is the commute to and from school is likely the most dangerous part of your child's day. Most injuries involving school transportation occur either while getting on or off the bus, or while traveling to or from the bus stop.
Conduct a through review of your child's route to and from school. Take the route with them and talk about safety concerns. The National Safety Council offers bus safety tips. If you believe your child's bus stop is unsafe, share your concern with other parents, and your child's school district.