NBC2 reports a man recently fired a gun at another driver in a road-rage incident after being brake-checked near Six Mile Cypress and Daniels parkways.
Meanwhile, Florida lawmakers have passed a measure that would allow teachers to carry firearms in the classroom. While our Fort Myers wrongful death lawyers recognize the rights of millions of responsible gun owners, we are often asked about liability in the wake of an accidental or intentional shooting.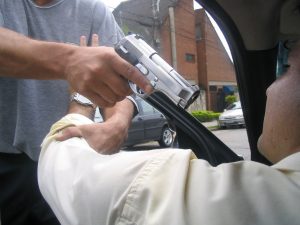 In many cases, there may be a path to financial recovery for victims and their families, although those victimized by unintentional shooting may stand the best chance of collecting from an at-fault party's insurance company.
The Centers for Disease Control and Prevention reports 2,700 gun deaths annually in Florida, which is about the same number of people who die each year in Florida traffic collisions.  Those injured by firearm discharge, or family members of those killed, should seek consultation with an experienced personal injury or wrongful death attorney in Fort Myers or Cape Coral.
Shooting Deaths Involving Children in Southwest Florida
Children are most likely to be seriously injured or killed in accidental shootings. More than 80 Florida children a year are killed by gun violence, according to a recent analysis by the Miami Herald. Estimates indicate that discharge of weapons may send as many as 8,300 kids to emergency rooms each year.
Children's Hospital of Pittsburgh reports that unintentional shootings are most likely to happen during late-afternoon hours and on weekends. They also occur more frequently during holiday seasons and summer months, or at other times when children are under less direct supervision.
F.S. 790.174 requires gun owners to use locked gun safes or trigger locks when storing guns accessible to children. Many shootings involving children result in claims against a gun owner's homeowner's insurance policy.
The Insurance Information Institute reports the standard homeowners policy is known as an HO-3. That policy specifically mentions firearms once, as property that is covered if stolen. Firearms are not mentioned in the liability section of the policy, implying that firearm liability would be covered. A homeowners' policy covers all liabilities that are not specifically excluded.
The Insurance Information Institute reports no U.S. insurance company offers stand-along gun liability insurance. However, some firearms organizations provide additional liability insurance coverage and a number of states have passed measures requiring gun owners to carry such coverage. At the federal level, the Firearms Risk Protection Act is under debate and would also require additional liability insurance.
Nor do insurers provide coverage for illegal acts, which is often the defense they deploy to defend homeowners against claims from shooting victims in the wake of irresponsible gun ownership. Even F.S. 790.174 does not hold gun owner's liable for injury or death resulting from stolen firearms.
Florida Wrongful Death Act, codified in F.S. 768.16-768.26, allows certain survivors to file a civil lawsuit against those who caused death through wrongful act, negligence, default or breach of contract or warranty.
The law allows immediate family members of decedent to pursue a claim. These include:
A surviving spouse
Minor, dependent children (under 25)
Parents of minor children
Adult children and parents of adult children in cases where there is no surviving spouse
Other dependent relatives
Determining your rights after a serious or fatal shooting is a complex process. Seeking free consultation from an experienced personal injury and wrongful death law firm in Fort Myers is the best course of action.
If you or a loved one is injured, call Associates and Bruce L. Scheiner, Attorneys for the Injured, at 1-800-646-1210.