When motorcycles and other vehicles collide, it's usually because the other driver violated the motorcyclist's right-of-way. It's a fact well-established by the National Highway Traffic Safety Administration and backed by other research.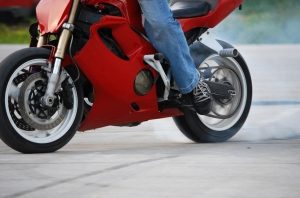 We saw this scenario play out again recently right here in Fort Myers, with the tragic death of a 22-year-old motorcyclist who was struck while riding on McGregor Boulevard.
According to WINK News, the motorcyclist was driving northbound on McGregor, approaching Water Lane, when a 34-year-old driver traveling the opposite direction on McGregor tried to turn left onto Water Lane. As she did so, she violated the motorcyclist's right-of-way, the investigation Florida Highway Patrol reported. The result was the car struck the motorcycle, and the young biker died days later. A teen passenger in the car also suffered minor injuries.
Authorities have said alcohol wasn't a factor in the crash, but have cited the other driver.
Pursing Claim of Wrongful Death After Motorcycle Accident
When a fatal Fort Myers motorcycle accident is caused by a driver who violates the rider's right-of-way, it is considered a wrongful death. The Florida Wrongful Death Act is codified in F.S. 768.16. It allows survivors of someone killed as a result of another's negligence to take legal action against those responsible. "Survivors," as identified by statute, are a decedent's spouse, children, parents and blood relatives/ adopted brothers and sisters who were partly or wholly dependent on decedent for support or services. Support could mean money as well as contributions in kind, while services are tasks of a household nature, typically performed by decedent that will now be a necessary expense to survivors because of the death.
Damages in wrongful death cases can include medical expenses, pain and suffering of decedent before death, mental anguish of survivors, lost wages of decedent, lost benefits of decedent and loss of consortium.
Why So Many Motorcycle Accidents Involve Right-of-Way Violations
There are endless crash scenarios on Florida roads, but when it comes to serious motorcycle accidents, right-of-way violations by the other driver are especially common. They are often followed by some statement of the other driver to the effect, "I never even saw him!" It's true that motorcycles aren't as large as many other vehicles, but the real problem is drivers aren't looking for them. They aren't checking their mirrors or their blind spots before switching lanes. They aren't anticipating the motorcycle's movements. Distraction too is a major problem, particularly with the rise of smart phone popularity.
While motorcycles comprise 3 percent of motor vehicles in the U.S., they accounted for 13 percent of all traffic deaths in 2016, according to the National Safety Council.
Florida tops the list for motorcycle accident deaths nationally (the NHTSA reported there were 606 motorcycle crash deaths in 2015 – a 30 percent surge from the year before.
Since Florida changed its motorcycle helmet law (they are no longer required for adult operators and passengers), a AAA survey showed only 47 percent of riders wear them. That is believed to play a role in the high death rate, though we should note the lack of a helmet in a crash is not cause for defendants in these cases to assert comparative fault on the motorcyclist's part.
If you or a loved one is injured, call Associates and Bruce L. Scheiner, Attorneys for the Injured, at 1-800-646-1210.
Additional Resources:
Traffic Safety Facts: Motorcycles, March 2017, NHTSA
More Blog Entries:
Training and Experience Keys to Safe Motorcycle Riding in SWFL, April 30, 2018, Fort Myers Motorcycle Accident Attorney Blog