A recent report published by City Lab highlights the role media plays in downplaying the fault of drivers for causing auto "accidents."
Safety advocates have long complained that media outlets tend to blame pedestrians and cyclists who are hit by cars. Research suggests they're right. But our Fort Myers injury lawyers know the issue also includes motorcycle accidents and a significant number of vehicle-on-vehicle collisions.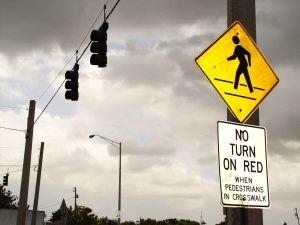 The term "accident" is almost always a misnomer; the vast majority of serious and fatal traffic collisions in Southwest Florida are caused by avoidable driver error. Media coverage, and official crash investigations may tell part of the story. But an immediate and thorough review of the evidence by an experienced personal injury law firm can serve to uncover additional factors of causation, and may even uncover error or bias on the part of the investigative agency or one or more involved parties.
Media Bias in Traffic Collision Coverage
The number of pedestrian deaths in the U.S. has increased 30 percent in the last five years, while the number of cyclist deaths is up more than 15 percent. Yet public outrage and attention has been little stirred by the carnage.
The study, conducted by Rutgers University, Arizona State University, and Texas A&M University, looked at how media coverage apportioned blame among drivers, cyclists and pedestrians, and to what extent the issue was framed as a preventable public health crisis and not an "accident."
Researchers looked at more than 400 articles that detailed collisions last year, half between a vehicle and a cyclist and the other half between a vehicle and a pedestrian. They concluded that news coverage overwhelmingly shifted blame to the cyclist or pedestrian. The word "accident" was used to describe a collision in almost half of all cases.
Additionally, journalistic word choice, such as "a cyclist was hit by a car" rather than "a vehicle struck a cyclist," also served to water down coverage, although researchers noted that was at least in part due to libel  laws and other legal requirements that require journalists to avoid blaming an at-fault party unless convicted in a court of law.
Journalists overwhelmingly used object-based language like "a car ran over the curb," rather than saying a driver drove over the curb. When a party was mentioned, it was in a majority of cases the victim and not the party most likely to be responsible.
Comparatively few of the articles took a look at road design or identified other possible contributing factors.
Our injury lawyers in Cape Coral and Fort Myers know personal injury and wrongful death litigation is often won or lost based on having a full understanding of all of the facts and circumstances of a serious or fatal collision, and by identifying all of the parties responsible.
If you or a loved one is injured, call Associates and Bruce L. Scheiner, Attorneys for the Injured, at 1-800-646-1210.