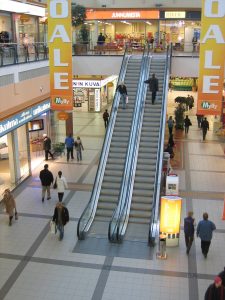 Safety awareness in parking lots is a focus as we head into the busy year-end holiday season.
Back-to-school, early darkness, returning seasonal residents, and harried holiday shoppers will converge in local parking lots over the next six weeks. Statistically, it is the most dangerous time of the year for parking lot injuries. While northerns must also deal with the beginning of winter snow and ice, our injury attorneys in Fort Myers and Cape Coral know Southwest Floridans are far from immune to the risks.
Children are at highest risk of being seriously injured or killed. Those risks begin with the start of school year, with drop-off and pickup lines and continue into the year-end holiday shopping season. Elderly residents are also at elevated risk for accidents in parking lots.
While COVID has slowed the hectic pace for many, there is every evidence that traffic is once again increasing on the roads of Southwest Florida.
Parking lot injuries a serious concern in Southwest Florida
The National Safety Council is already telling shoppers to pay attention on Black Friday and during the holiday season while driving in parking lots. The organization reports distraction is often the culprit, with up to two-thirds of drivers admitting to driving distracted while in parking lots. On average, more than 50,000 crashes occur in parking lots and parking garages annually, resulting in more than 500 deaths and 60,000 injuries.
Struck by vehicle: By far the biggest risk in parking lots, being struck by a vehicle, even at low speeds, can result in very serious injury. Backover injuries are particularly deadly and most often victimize small children or the elderly. Drivers must always check carefully and enter and exit parking spaces with caution. Parents should hold a child's hand and walk far enough away from parked cars to be easily seen by backing drivers. These risks extend beyond parking lots to include backover accidents that occur in driveways, particularly during large family gatherings.
Fall injuries: The busy holiday shopping season is expected to bring people out in force. In some cases, it will be the first time in nearly six months that local malls and big box stores will have to accommodate large crowds. Fall injuries most often occur because of broken or damaged walking surfaces, missing or inadequate lighting, or slippery or foreign substances. Fall injury claims in Florida are complicated by strict rules on liability. Such cases are best proven by consulting an experienced injury lawyer in Fort Myers or Cape Coral as soon as possible after an accident.
Assault: Personal safety should also be part of your safe-holiday plan. Use well trafficked areas and well-lit parking lots and avoid walking alone after dark or keeping presents or other valuables in plain view in your vehicle.
Premise Liability Legal Claims
Accidents on commercial property are complex cases that often involve a business, as well as a property owner or property management company. Florida Statute § 768.0755 changed the rules of slip and fall liability claims by requiring that a plaintiff prove a property or business owner not only acted unreasonably in the upkeep of his or her property, but knew or should have known the dangerous conditions existed long enough to be reasonably discovered and remedied.
Falling merchandise is another common risk as stores make temporary displays and overstock merchandise in advance of the biggest shopping days of the year.
As many of us attempt to return to some semblance of normalcy this holiday season, take an extra moment to keep from being exposed to more traditional risks. COVID aside, getting to and from your holiday destinations will be the riskiest part of such excursions.
If you or a loved one is injured, call Associates and Bruce L. Scheiner, Attorneys for the Injured, at 1-800-646-1210.